A Complete Guide To Makeup Brushes
In the universe of beauty, having a makeup brush for nearly every step of your beauty routine can have a colossal effect in the presence of your flawless look. Be that as it may, we all have an individual cosmetics brush instructions guide to whip out every time we get ready; it can be amazingly tricky trying to find out what each particular brush's function is.

You can turn into the ace of your makeup looks with our easy to follow techniques. No makeup Artist Required.
The structure of the makeup brush
Before we dive into brush types, let's first start with the brush anatomy. A makeup brush has three parts: the bristles, handle, and ferrule:

The bristle and the handle are pretty self-explanatory, and the ferrule is the middle part that connects them. The ferrule can be either round or squeezed at the end of the bristle. A pinched ferrule will give your brush a flat appearance, where around one will provide a more rounded shape to your brush.

The shape, length, and thickness of the ferrule and the bristles' cut give each brush its distinctive properties. When in doubt, dense brushes are best for smudging, buffing, and spreading. Fluffy brushes are great for dusting, blending, and diffusing. Longer bristles tend to have more comprehensive contact and be more flexible, and shorter bristles are firm and more accurate. Understanding each of these features and how they affect applications can help you choose whether a particular brush is worth buying. Another significant consideration is how manufacturers make the bristles.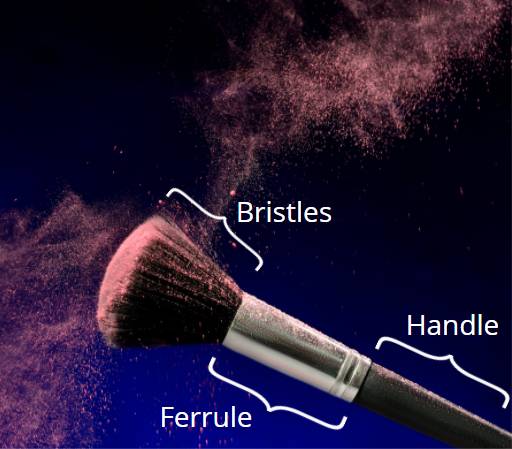 Synthetic and Natural Bristles
Divide makeup brushes into two categories: Those with natural bristles and those with synthetic bristles. 

Synthetic Bristles came from material like nylon or some other synthetic fiber; these can't absorb makeup the same way natural bristles can. Synthetic bristles are best for applying cream and liquid products. 

Natural Bristles are composed of animal hair and are known for their blending and pick-up properties and advertised as ideal for applying powder products. Natural haired bristles are not vegan and can be cruelty-free, as the term cruelty-free applies to obtaining material from animals without torturing them.   

Ultimately we all have to make our own decisions about the nature of brush type. If you want to go 100% vegan with your brushes, there are more high-quality synthetic brushes on the market now than ever before.
Makeup Brushes and their Uses
Makeup brushes don't come with an instructions guide, but they really should. It can be challenging to figure out precisely the different types of makeup brushes and where you use each brush along with which makeup products it is used for.

We have divided makeup brushes into three broad categories: Face Brushes, Eye Brushes, and Lip Brushes. Check out our complete makeup brushes guide below to get the information you need.
What Makeup Brushes to Use for the Face?
Tapered foundation brushes are usually less full in form and flat with a gentle taper. These are best for any type of liquid product, including your light, heavy, and medium foundations; alphabet creams (BB, CC, DD) and tinted moisturizers.
How to Use a Tapered Brush?
Step 1: To use a tapered brush, start by dipping the brush in warm water then gently squeezing out the excess water. 

Step 2: To apply makeup using a tapered foundation brush, direct the brush along your face in even strokes. 

Step 3: It's often easier to start in the center of your face and work your way outward. Take care to make sure that the foundation is blended well, and no harsh lines are left behind.
Our Top Rated Tapered Brushes
Here are some professional-quality tapered brushes to achieve super smooth, even finish, and flawless blend-ability.
UD PRO LARGE Tapered Foundation Brush

GOERTI Tapered Foundation Brush 

KEVYN AUCOIN Tapered Foundation Brush 
What is a Stippling Brush?
The stippling brush is another foundation brush for creating a flawless look. But you can utilize stippling brush for almost any kind of liquid and cream formula, including your blush, bronzer, or highlighter. The stippling foundation brush helps you get the product onto the skin smoothly and efficiently, giving you an airbrushed makeup appearance. These brushes are usually flat, blunt and feature two layers of bristles, ends of the brush are usually light and feathery as compared to the base.
How to Use a Stippling Brush?
Step 1:  To use a stippling brush, apply cream blush or foundation on the back of your hand and then dip the brush into the product. 

Step 2:  Use small circular motions to push the brush down onto your face.

Step 3:    Don't push hard with the bristles because too much pressure will end up leaving puddles of makeup. Gently press down the longer bristles, and make soft swirling motions to get the maximum coverage quickly. 
Our Top Rated Stippling Foundation Brushes
These stippling brushes are densely packed with duo-fiber bristles.
E.L.F SMALL Stipple Brush 

REAL TECHNIQUES Stippling Brush 

JAPONESQUE PRO Stippling Brush
Kabuki brushes are some of the most impressive looking brushes, great for applying bronzer, blush, and powder foundations on the face and body. You will recognize a kabuki brush by its flat top, densely packed, and ultra-soft bristles. Voluminous bristles of kabuki brushes are typically cut into a flat top, though you will find it to be at an angle for more precise powder work.
How to use a Kabuki Brush
Step 1:  Spread concentrated products by swirling the brush in your powder pigment.

Step 2:  Tapping to get rid of the access, and gently applying them using large circular motions. This technique can provide you the more natural-looking, airbrushed coverage. 

Step 3: Be careful not to press the brush violently to avoid disturbing your highlighter and blush placement, etc.
Our Top Rated Kabuki Brushes
FENTY BEAUTY BY RIHANNA FACE & BODY Kabuki Brush 

NARS MIZUBAKE Kabuki Brush 

MAKEUP FOREVER 110 FOUNDATION Kabuki Brush
Makeup sponge is a great way to apply multiple products. You can use it to apply primer, sunscreen, topical creams, and most commonly, makeup lovers use it to apply and blend the foundation and concealer. If you have dry skin, I recommend using a damp sponge in a pressing motion; it will press the foundation into the skin and not brush up any additional texture.
How to use a Makeup Sponge
Step 1: Use the liquid products, run the sponge under the water, and gently squeeze to remove the extra water. 

Step 2: Now, gently dab the beauty blender into the product and then directly apply the item to your face utilizing delicate dabbing movements. Toning it down would be the best idea when using a makeup sponge.

Step 3: For smaller regions, utilize the makeup sponge's tip for detail jobs like applying highlighter or shimmer to your Cupid's bow or brow bones. 
Our Top Rated Makeup Sponges
BEAUTY BLENDER the original makeup sponge 

NYLEA SILICONE makeup sponge

REAL TECHNIQUES miracle complexion sponge
Summary of Foundation Brushes
What is a Concealer Brush?
Concealers usually come in liquid and cream form, so try to use a synthetic brush; it will help you give lighter coverage by soaking up some extra moisture. A small, firm, narrow, and tapered concealer brush will help you apply the product with precision to the areas like underneath the eyes and on either side of your nose that a bigger brush can't get. These are best to even out and make the product look as natural as they can on the face.
How to Use a Concealer Brush?
Step 1: While using a concealer brush, carefully pat the product onto the skin to conceal the problem areas.

Step 2: Apply several dots under the eyes area, tap in the product using your concealer brush, and make sure to blend well.

Step 3: Dust loose powder over your face to set the concealer.
Our Top Rated Concealer Brushes
MARC JACOB Full Cover Correcting Brush No.14

HUDA BEAUTY Conceal & Blend Brush 

HOURGLASS Concealer Brush
What is a Contour Brush ?
Contour brushes are used to achieve defined and angular cheekbones and jawline. It's crucial to use an angled contour brush rather than a flat brush. It will allow you to follow the natural curves of your face. The brush should fit nicely under your cheekbones, almost doing the contour job for you.
How to use a contour brush?
Step 1: To get a contoured look, choose a dark contour color that can contrast your skin color. If you have fair skin, you must not go too dark; stick with a medium tone.

Step 2: Trace the area you want to minimize with your angled contour brush, and then apply a darker tone of your contour product and blend everything. 

Step 3: To mix, you can use a kabuki brush or other full fibered brush. It sounds simple, but it's the most critical and challenging part of making the contour looks as natural as possible.
Our Top Rated Contour Brushes
Huda beauty sculpt & Shade Brush 

NARS #21 Contour Brush 

SEPHORA COLLECTION PRO ANGLED Contour Brush
Applying bronzer is a great way to add a fresh, attractive, and natural-looking glow to your face. However, misapplying bronzer can make your face look orange or dirty. Since the purpose of the bronzer is to darken the complexion subtly. If you have a fair complexion, go for a honey-colored bronzer. For medium complexion, choose a gold-flecked or rose bronzer. And for a deep complexion, go with a tawny or amber bronzer.  
How to use a Bronzer Brush?
Step 1: Choose a bronzer one or two shades darker than your foundation. Start by creating an even base using your favorite foundation and concealer. 

Step 2: Utilize a broad fleecy brush with a round top to apply, blend, and set the product. 

Step 3: Apply the bronzer on your forehead, cheeks, and jawline to make your face glow with a warm radiance.
Our Top Rated Bronzer Brushes
These brushes are soft, synthetic, and large plush heads that will help you distribute your bronzer pigment evenly. 
BOBBI BROWN Bronzer Brush 

SIGMA BEAUTY Bronzer Brush

Real techniques bronzer brush 
Blush brushes with a long, dome shape and fluffy bristles help to diffuse your powder pigment evenly. These brushes are smaller than a powder brush and have a dome shape with long and super soft bristles. Blush brushes make it easy to apply the product on smaller areas of your face, such as blush on cheekbones. You can use it for a light dusting of bronzer, contour, and highlighter.
Step 1: Diffuse blush outward while applying to the apples of your cheeks to avoid a doll-like finish. 

Step 2: Start with light pressure and test out the pigmentation on the back of your hand. It's much easier to build a blush color than to wipe it away after applying it. Step 3: Endeavor to keep up a reasonable critical distance from red circles on your cheeks while applying blush.
Our Top Rated Blush Brushes
NARS Yachiyo Blush Brush 

CLINIQUE BLUSH Brush

MORPHE M527 Blush Brush
A powder brush is generally a thick, either synthetic or natural full fibered brush with the flexibility to perform multiple makeup jobs. The essential function of a powder brush is to clean your face with compact or loose powder. These are well suited for adding color like blush when you want a less pigmented and natural look. Powder brushes can also work well to apply bronzers and a touch of shimmer.
How to Use a Powder Brush?
Step 1: Dip the brush into the powder product, swirl circles onto the cheeks and over the temples until you achieve even coverage.

Step 2: If you are going to apply setting powder, prefer using a soft, fluffy powder brush. A soft fluffy powder Brush will keep you from spreading a lot of powder, which can here and there cause a white or grey cast and appear too matte.
Our Top Rated Powder Brushes
A good quality powder brush will allow you to set and touch up your makeup. With brushes like these, looking chalky can be avoided. 
KAT VON D LOCK-IT Brush for Setting Powder

SUQQU FACE Brush

JANE IREDALE CHISEL Powder Brush
A fan brush has a shape like a fan and has ultra-light bristles, perfectly shaped to run a delicate application of highlighter on the tip of your nose and under your cheekbone. These are great basics to have in your cosmetics collection because of their multi-use functionality. Fan brushes can sweep on blush, clean up excess powder, brush away extra flecks of eyeshades, and apply a light layer of highlighter along your cheekbones. They work exceptionally well as a makeup mistake-corrector.  
Step 1: For highlighter or blush, use a fan brush to gently buff the product onto your cheekbones using a sweeping motion. 

Step 2: Alternative use of fan brushes uses them as an applicator for sunscreen and lotions. It's a soothing and gentle way to apply all your skincare products.
Our Top Rated Fan Brushes
Try your hand at these delicate, ultra-soft, and light feather fan brushes designed to apply a modest amount of highlighter, bronzer, shimmer, or blush.
Makeup forever 120 medium powder fan brush 

SIGMA BEAUTY F42 STROBING Fan Brush 

ELF FAN BRUSH
More Brushes For The Face
What Makeup Brushes to Use for the Eyes?
What is a Flat Eyeshadow Brush?
Eye shadow brushes are usually short brushes meant for sweeping shadow color across the lid and upper eye area. You can use these brushes to smoothly apply eyeshadow, whether in powder or cream, with precision onto your cover. A flat shadow brush is also a great tool to apply eyeshadow primer as well. An ideal eye shadow brush will pick up the right measure of the product, and it will permit you to pack it onto the eyelid with little fallout.
How to Use a Flat Eyeshadow Brush?
Step 1: Simply dip the brush into your favorite eyeshadow palette.

Step 2: Tap off the excess and gently apply to your lids. You can immerse the brush in water for a more pigmented effect. 

Step 3: Use short and slow brush strokes in the same direction to blend eyeshadow.
Our Top Rated Eyeshadow Brushes
These brushes are perfect for packing on your favorite eyeshadow. Their medium size fits all eye shapes and picks up the right amount of product for even application.
BOBBI BROWN Eye Sweep Brush 

SURRATT BEAUTY CLASSIQUE Shadow brush 

NARS # 49 WET/DRY Eye shadow Brush 
What is an Eyeshadow Crease Brush
Eyeshadow crease brushes can vary in size; some are slightly pointed with a gentle taper. These create the illusion of depth and add dramatic contrast to your base lid color. They typically are shaped to fit in the eye curve; the shape of your crease brush could be in a cut crease or softer definition style.
How to Use a Crease Brush?
Step 1: Use a dome or a bit of a point-shaped crease brush to give a smarter shape to eyes. 

Step 2: Apply a dark brown eyeshadow above the lid, close to the brow bone, and add a light concealer across the lid.

Step 3: To create the crease's dramatic edge, sweep a light base pigment across the concealer covered lid.
Our Top Rated Crease Brushes
Use these brushes to apply and mix color in the crease with effortless precision.
HOURGLASS NO 4 crease Brush 

PATRICK TA Eye shadow Brush 

ELF DETAIL crease Brush 
What is an Eyeshadow Blending Brush
An eyeshadow blending brush blends out the powders for a sheer and diffused finish. These brushes are known for their soft, fluffy bristles, and tapered shape helps you blend well without scratching the craziness out of your lids.
How to use Eyeshadow Blending Brush?
Step 1: Swipe the blending brush into the crease of your lids with a windshield-wiper motion to disperse your eye shadows. 

Step 2: Swirl it around the corners of your eyes when blending multiple colors on top of one another.
Our Top Rated Eyeshadow Blending Brushes
These blending brushes have broad, flat, and fluffy bristles that help you achieve smooth and well-blended eyeshadows finished look. 
CHARLOTTE TILBURY blending eyeshadow Brush 

SIGMA BEAUTY blending brush

DIOR SMUDGING Brush No. 23 
What is an Angled Eyeliner Brush
The angled eyeliner brush is considered a basic essential for applying gel or cream eyeliners. Many eyeliner brushes, such as flat brushes, angled brushes, and smudgers with slim and super-fine brushes, create thin and precise lines. Angled brushes can also define an eye crease, smudge out pencil eyeliner for a softer and natural look, and apply brow powder with better accuracy.
How to Use Angled Eyeliner Brushes?
Step 1: To utilize, dip the brush into the eyeliner tube. From your inner eye, draw a thin line outward; gradually increase the line's width and flicking out towards the ends. 

Step 2: A great way to begin creating cat-eye is by using a dot or hash method. Make little hashes or specks along your lash line with the help of an angled eyeliner brush and a final dot where the tip of the wing will go. 

Step 3: Connect the dots to get the cat-eye look. You can also try stencil or tape to make sure the angles of both your wings match.
Our Top Rated Angled Eyeliner Brushes
Find our top-rated small and flat eyeliner brushes with an angled top.
GABRIEL COSMETICS Angle Brush 

MORPHE M160 Angle Liner Brush 

REAL TECHNIQUES BOLD METALS Angled Liner Brush
Fine Liquid Eyeliner Brush
What is a Fine Liquid Eyeliner Brush
A liquid eyeliner brush is all about precision, with a fine and pointed tip. Using a fine liner brush, you can create a delicate lining with gel or liquid eyeliner. Though many types of liquid eyeliners come equipped with their brush, some prefer to deposit the color on their fine eyeliner brush and apply it that way.
How to use liquid eyeliner brushes?
Step 1: Dip the brush into the liquid or gel eyeliner before lining along the lashes in delicate strokes. 

Step 2: Simply dot your lash line with color, connect the dots, draw a precise line, and then elongate it by sweeping the brush over your lash line from end to end. 
Our Top Rated Liquid Eyeliner Brushes
Find the best liquid eyeliner brushes with a subtle and pointed top. 
SIGMA E10 Small Eye Liner Brush 

MORPHE M250-S Detail Liner 

ILLAMASQUA FINE Eyeliner Brush with Cover
The pencil brush is an all-rounder that usually comes with a pointy and tapered tip. You can use it to smudge out your cream eyeliner, smoking out your lower lash line, popping on a highlighter on the inner corners of the eyes, and adding definition to the edges of your eyes. Ideal for powder, cream, and gel products.
How to Use a Pencil Brush?
Step 1: Use the pointed tip of the pencil brush to smudge out your eyeliner gently. You can also use the tip of the brush to smudge your eye shadow underneath your lower lashes.

Step 2: Pinpoint the smaller areas around the eyes, such as inner and outer corners, when applying intense pigment.
Our Top Rated Pencil Brushes
MAC 219S SYNTHETIC Pencil Brush 

230 LUXE Pencil Brush 

SIGMA BEAUTY E30 Pencil Brush
What is a Double-Sided Brow Brush?
This brush is for taming and styling your brows. An angled brush is ultra-handy for applying all kinds of brow products, like cream and powders. The spoolie is great for brushing out your brows before and after using brow products. Often spoolies come double-sided with an angled brow brush on the opposite end. You can also utilize this brush to comb out clumps in your mascara. 
How to Use a Double-Sided Brow Brush?
Step 1: First, use a comb/spoolie to straighten and form your brow shape.

Step 2: Use the brush side to apply your brow product, whether that's gel, powder, or a cream.

Step 3: Use short strokes to make sure to come to a defined point at the ends. 
Our Top Rated Spoolies with Angled Brow Brushes
The spoolie is essential for grooming your brows and ensuring a polished finish. You can set the most awkward brows with a duo-brow brush. 
ANASTASIA BEVERLY HILLS BRUSH 7B- Dual-Ended Brush

BENEFIT COSMETICS Brow Brush & Spoolie

KINGMAS Brow Brush & Spoolie
What Brushes Should You Use for Your Lips?
You use lip brushes to apply lipstick and lip gloss accurately. A thin lip brush is best for applying lip color flawlessly, primarily when you use a darker shade where precision is necessary. The stiff edge of the lip brush makes it easy to perfectly line your lips while the flat surface empowers you to rapidly and precisely fill in lips with your favorite lip product.
Step 1: Simply dip the brush into your lip color and precisely line your lips, smooth over imperfections, and gracefully shape your lips. 

Step 2: By applying lipstick using a brush, you can be far more accurate with outlining and filling in your lips than directly from the lipstick.

Step 3: Finish the look with similarly colored lip liner. This brush will also help you build color, which is much harder to do when applying lipstick directly.
SEPHORA COLLECTION # 85 Pro Lip Brush 

MAC 316 SYNTHETIC Lip Brush 

SIGMA BEAUTY L05 Lip Brush
What are the best affordable brands of makeup brush sets to buy?
You can find some great brush sets that pack in the essentials and help cut costs. We have rounded up the best, affordable, and high-quality sets of all your essential face and eye makeup brushes to make the application a total dream.
Zoeva Screen Queen Complete 15-Piece Brush Set 

 Walford Richards Designs 12-Piece Hand-Crafted Brushes

 Sigma Beauty a Knook Favorites Brush 7-Piece Set




 
Always test to find a high-quality and durable brush before buying. Rub it against your skin; the bristles should feel soft, not scratchy or rough. To test the fibers' quality, run the brush against your hand to check whether any filaments drop out. On the off chance that they do, don't purchase it. If the bristles are intact and feel soft, it's a keeper.
How to clean your brushes?
Below is a video on how to clean your brushes using house hold toold. If you want a step by step guide have a look at the article we wrote here. 
Taking everything into account, you don't need a thousand makeup brushes or sponges to make your look flawless. Fortunately, many brushes are great at multitasking and can be used in ways beyond their name suggests. So if you want to get the most out of your brush collection, stop looking at labels, cuts, and shapes. Buying brushes that can efficiently serve multiple functions will be a better investment.

Regardless, if you need to move on from novice to professional, you have to arm yourself with the correct information of makeup brushes for every step to make it happen.