Can Foundation Be Used As A Concealer?
Suppose you don't want to use a concealer in your makeup routine and still want to cover up imperfections on your face. So what should you use? Can you use your foundation?
Yes, you can use your foundation as a concealer. Concealer is essentially a thicker and high pigmented version of foundation, so it makes sense to replace it with one. But make sure the foundation you are replacing is not water-based. If it is thicker, it will adhere to the skin and blend easily. Use a stick foundation or full coverage foundation, as they are more creamy and have a higher amount of pigment. You can also keep your foundation in the fridge for cooling and making it thicker.
Why would you want to substitute foundation for concealer?
If you like to keep your everyday makeup routine to a very minimum, or don't have the time and patience to apply concealer to your eyes, forehead, cheeks and chin, a full coverage foundation is just what you need. It can conceal all the trouble spots and darkest points on your face.

The benefit of using a foundation as a concealer is that you can save on purchasing a concealer. It's also useful when you travel and don't want to carry extra items with you.
Different foundations and if they are a good substitute for concealer?
Foundation regardless of quality, can vary widely in terms of application, ingredients, and consistency. We have put together a quick guide to the most common types of foundations, each of which has its advantages. 
Liquid foundations are used to create the most natural-looking finish and are suitable for all skin types. These are easy to blend and offer coverage ranging from super sheer to full. It isn't recommended to use liquid foundation as a concealer because it doesn't provide full coverage. Still you can use it as a concealer.
Stick foundations are cake foundations stored in tubes. Usually, they offer more coverage than liquid foundations, because of their consistency, they can also serve as a concealer. Stick foundations are a good substitute for concealers.
Powder foundations are great for creating matte looks or for touch-ups. These usually come in compacts and work best on oily skin. You can use this as a concealer but it requires a bit more effort.
Cream foundations are great for creating the dewy look, usually come in compacts and jars, and work best on dry skin. You can use this as a substitute to a concealer.
Mineral foundations frequently come in loose powder form and offer medium to high coverage. These are best for sensitive skin, especially if you are suffering from acne and rosacea. These are not that good to use as a concealer but you can use it.
Tinted moisturizers are not foundations; these are more like moisturizers. Tinted moisturizers are for those blessed with flawless skin and want a slight tint of colour to even out the skin. These are good to use as a concealer.
List of best foundations you use as a concealer
Finding the right base for your skin can often involve a bit of trial and error, which is why to help you find your perfect formula, we have curated a list of most loved foundations that you can use as a concealer for all skin types.

Hourglass Vanish Seamless Foundation Stick 
This is a full-coverage stick foundation. The unique formulas cover like a concealer and blend like a foundation. It's quick application, lightweight, and the dewey finish works well on all skin types.

Huda Beauty – Faux Filter Foundation
Faux Filter Foundation provides incredibly high and an equally-pigmented coverage without caking in the way. A single swipe of this foundation goes a long way, which means you don't need to build even for concealing hyperpigmentation and blemishes.

L'Oreal Infallible Fresh Wear 24H Foundation 
This foundation is a godsend for your skin and your wallet. It's medium to full buildable coverage seamlessly blends in to conceal any imperfections, leaving you with a natural and refreshed finish that lasts for the entire day. It's lightweight, non-comedogenic oil-absorbing formula makes it suitable for all skin types.
Step by step guide to apply a full coverage foundation as a concealer
Step by Step Guide to Apply a Full Coverage Foundation as a concealer?
Sheer foundations are straightforward to use, but sometimes you need more coverage, whether to hide acne or hyperpigmentation, a full coverage foundation can help your skin look flawless. To apply a high coverage foundation, follow these steps to achieve a natural and perfect look.

Make sure your skin is prepped before you apply any makeup.

Step 1: Apply a small amount of your skin primer to your fingertips and rub it gently over the entire face. Focus in zones with big pores, for example, the cheeks and the base of your nose.

Step 2: Mix a drop of facial moisturizer into your foundation in the palm of your hand. Mix the moisturizer into the foundation until it is fully merged. An extra touch of moisturizer will help your foundation blend more seamlessly on your skin.

Step 3: Use a fingertip to dot your foundation on your nose and cheeks, forehead, and chin. 

Step 4: Blend your foundation with a makeup sponge or a foundation brush. 

Step 5: Apply a second round of foundation dots (if your first application is still too sheer for your taste) and blend nicely to conceal the imperfections and blemishes.

Step 6: Blend the outer edges of foundation at your hairline, jaw, and earlobes.

Step 7: Apply a little moisturizer to any flaky skin if there are any areas of excessive dryness.

Step 8: Apply a foundation one shade lighter than your skin as a concealer to achieve a more natural and brighter look helping you to cover blemishes and trouble spots.

Step 9: Use a small pointy makeup brush to dab your full coverage foundation to conceal the darkest points such as blemishes or under-eye circles.

Step 10: Finish the look with a translucent powder to reflect the light and help your makeup look more natural.
Tips for using foundation as a concealer
Full coverage foundation or stick foundation offers more coverage than liquid foundations, because of their consistency, they can also serve as a concealer.
Even if you are not blessed with blemish-free skin, there is a good chance you rely on a full coverage foundation in your beauty arsenal, and with good reason. From hiding your dark circles, pimples, and imperfections, a full coverage foundation does it all. 
Rules to follow to use your foundation as a concealer
Many makeup artists believe that the

concealer should be a shade lighter than your foundation.

I agree.

However,

if you don't wear a heavy foundation. Use the same shade of foundation

to match your skin tone. Which means you can

use your regular base/foundation as a concealer instead of a separate purchase. This will save time, product and money.



The

foundation ought to ideally give at any rate medium to heavy coverage to work.

Tinted moisturizers may work if you have to light up the eyes area but for intense dark circles use a foundation that offers better coverage.

 

The application method likewise has an immense effect. Try not to rub the foundation, instead of dot the foundation on dark circles or freckles and then lightly dab. Alternatively, you could use a concealer brush



If you

want to achieve a natural look

and don't

want to enhance the areas around your eyes, blend it with the rest of your face.



Apply a little

foundation

at first then if you need to apply more

(layer it as needed).

You can also use pressed powder for additional coverage, and it helps to set in the foundation.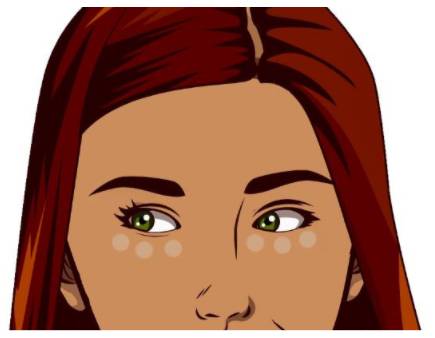 The downside of using foundation as a concealer
The negative side is that

you may not get full coverage except if you are utilizing a full coverage

foundation;

however, you may then have it looking cakey in certain areas.


Foundation is also not a replacement for a good concealer, especially if you have prominent freckles, dark spots, blemishes, or imperfections.


Using foundation in place of a concealer may cause wrinkles in your dark circles area. The reason for this is the skin on your eyelids and dark circles is different (thinner) than the other areas. 
Foundation is widely recognized as the first step when it comes to makeup right after primer. It all comes down to your skin tone and problems, what look you want to achieve, and products you are going to use.

Some days you may feel like you could use a little extra help looking more natural, so you might try additional coverage of your foundation to hide the imperfections and blemishes on your skin.

The real secret to achieving a flawless look and ensuring your foundation works magic as a concealer? Select shades that complement each other, so they blend to create a natural and flawless-looking finish.

A one-product-fits-all-approach doesn't work when it comes to our unique skin tone, so feel free to adjust your routine to suit the needs of your skin.