How To Apply Makeup Like a Pro
Applying makeup is challenging especially with all the products in the market. You've probably asked yourself the question. Does foundation go on before concealer? Do you have to apply blush? If so, where is it applied. These are normal questions that we have all asked and sometimes still do. 
The key to perfect makeup comes down to your preparation. Prepping is defined as cleansing, toning, and moisturizing your face before going in with any makeup. Once you've prepped your face, it's time to put your makeup on. 
Step 1: Primer 
Step 2: Foundation 
Step 3: Concealer 
Step 4: Setting Powder 
Step 5: Bronzer
Step 6: Blush 
Step 7: Highlighter 
Step 8: Eye shadow, Eyeliner & Mascara
Step 9: Lipstick/Lip Gloss 
Step 10: Setting Spray 
Why Do Women Apply Makeup?
There are indeed varying reasons why people put on makeup. Some folks go for the natural look, while others are interested in playing with various beauty shades. To list but a few, here are 2 reasons:
Women can hide their flaws and imperfections that she has accumulated over time due to harsh exposures.

As the saying goes, looking good is good business. So women want to feel competent and confident. It aids in expression.
If you want to learn more about why women wear makeup click here to reveal the mystery 
Prepping before Applying Makeup
When you start thinking about applying makeup, it's expedient to take good care of your skin via cleaning and moisturizing. The neck and face are susceptible and vital to the entire makeup process, so it's necessary to use cleansing water and cotton pads. Use moisturizer and dab the forehead, chin, cheeks until the moisturizer is completely absorbed. Also, moisturize the entire neck, including the back, to keep it smooth and taut.
Applying Makeup Like A Professional
Applying makeup like a professional is a step by step process. Which makes it a lot more like painting a picture, and you will want to start with a clean canvas.
The very first step to any makeup look is to apply a primer. It hydrates the skin, boosts coverage, smoothes your texture, minimizes pores, increases your makeup's longevity, and creates the perfect surface for my foundation.

What does it do: A primer hydrates the skin, boosts coverage, smoothes your texture, minimizes pores, increases the longevity of your makeup, and creates the perfect surface for foundation. Helping keep your makeup in place and not budge all day!  

What brush to use: Most people use their hands to apply on the face down to the neck, but as a professional, use a regular brush.

How to apply it: Rub and blend into your face as there is no challenging procedure, then leave it to dry for a while before proceeding.
Foundation acts in establishing the groundwork upon which other makeup essentials like the cream or powder lay. Therefore, every professional makeup artist uses a good foundation when attending to the client.
What does it do: Foundation acts in establishing the groundwork upon which other makeup essentials like the cream or powder lay. It's the main character in the show. Its primary use is to go on to even complexion, cover flaws, and allow for a uniform color.
What brush to use: Foundation brush or makeup sponge.
Applying it: To get a flawless foundation that matches your skin tone, you must first apply primer using a foundation brush or a damp beauty blender to apply your foundation. The critical thing to note is color-match and even application. It is crucial to blend the product well along your face, jawline, and neck—cover certain areas like redness, pimple spots, and the likes.
Concealer is one of the most important things to do if you want to look fresh, bright-eyed, and dewy. For under-eye concealers, try to go one or two shades lighter, but be sure to place it on top of your foundation to achieve the bright eye look! 
What brushes to use: Concealer brush or makeup sponge.
Applying it: Using a concealer brush, apply the formula under your eyes in an upside-down triangle shape and blend it in well. Choose a compact or stick concealer and dab some concealer on dark spots.
Pro Tip: The concealer is thick but must be applied lightly around the face and on the contour area; it is usually for the under the eye, the nose, the cheekbones, the jaw, the forehead, and the edges of the hair. If you want to cover pimples, scar, or birthmark, there are different kinds of concealers for it; it has changed color and after this, then blends into the face.
Color Correcting Uses:
Yellow: corrects under-eye bags on tanned skin
Green: corrects redness for things such as blemishes, pimples, scars
Purple: corrects, brightens, and counteracts yellow undertones
Orange: corrects dark circles or dark spots on medium to dark skin tones
Peach: corrects and disguises dark spots on fair to light skin tones
Foundation Powder (very lightly)
Applying foundation powder is another crucial step in learning how to use makeup like a pro. Many people usually skip this step and may end up with an unsatisfied look. Notwithstanding, it is smart for the remainder of your face to utilize a compact powder or even a setting powder to seal the deal. 

What does it do: A foundation powder carries highly pigmented, finely milled powders that help your product cling to your skin. It's used to substitute a liquid altogether, but it provides such a sheer coverage that you can use to sprinkle on top of your foundation to set it in place and ensure your complexion is perfect. The powder can be used to set your foundation, such as a setting powder, so it looks smooth and stays longer! It ensures the longevity of your product.

Which brush to use: Buffing brush.

How to apply it: Use a buffing brush to apply the powder evenly onto your face and neck very lightly. We use setting powder to blend and set the foundation, including the concealer applied on the face and cover up little spots and scars. A little bit of the product goes a very long way. 
For a sun-kissed glow, without the sun. You can contour your face in different ways using a bronzer using different shades. The darker and lighter shades of powder need to be applied lightly to get clogged on the face and make it look muddy or washed out. It gives a sort of light and can allow for the nose to appear pointed. 

A very deep or light-skinned client would need a sharper bronzer color because of the skin tone. If you use regular bronzer on perhaps an extremely fair-skinned client, it could give off orange undertones. We do not want that!

What does it do: The primary purpose is to emulate the sun-kissed glow when you are not feeling 100%, or to warm up your look. You can use a bronzer to contour your features to allow them to appear sharper.

Which brush to use: A flat brush or a small oval brush to reach.

How to apply it: Apply bronzer to places where the sun naturally hits the face (i.e., forehead, cheekbones, jaw, the bridge and sides of the nose, bottom of neck). Take your oval brush and lightly sweep in an upwards motion over the contour area.
Contingent upon how you apply can make your face look longer, smaller, or more prominent. Using blush on the cheeks adds glow to your skin, and it also makes your face look fresh and healthy.

What does it do: Blush gives your face a healthy-looking radiance, taking away the skin's dullness. 

Types: Powder blush and cream blush.

What brush to use: Bobbi Brown Blush Brush, or an angled brush of choice
Before its application, the face details are essential because it determines how to apply the blush:
Oval faces always have these prominent cheekbones, your forehead is more substantial than your jawline, and the oval face jaw angle is round. 

Heart-shaped faces possessing a broad forehead and high cheekbones, pointed chin, and a widow's peak at your hairline.

Square faces typically have a forehead that is the same as the forehead, cheekbones, and jaw's width.

Round faces are wider and well rounder!

Oblong/long faces share similarities with oval and square faces but have a unique difference from both, and that is the face which is longer and less wide. Forehead, cheeks, and jawline are of the same width. 

Triangular – for this type of face, the chin is narrow and pointed, while the high cheekbones are a noticeable feature. 
Oval faces – If you have this face – you are lucky. It allows the makeup artist to be creative because there are so many things you can do with an oval face! With a blush on an oval face, you should place the color just above the cheekbone rather than beneath. Doing this helps to raise the height of the cheekbone. When it comes to blushes with an oval face, you need to ensure you are not applying it under the cheekbone because if you do, the face will look like it has windburn. The reason being is that you should use something like a bronzer instead because a contour works better for under the cheekbone. 


Heart-shaped faces –This type usually appears pointy. Sometimes, depending on the client, there is a desire to soften features. Apply blush in 'C' shapes. The C shape starts from the end tip of your brow and works your way to the cheekbone. Then, adding a bit of blush to the center of the client's forehead to create a harmony between the forehead and the chin.


Square faces – The first thing to do here is to keep things basic by applying blush on the cheeks' apples to soften angular face shapes. Also, ensure that it is used in the hairline to ease your face's edges. 


Round faces – Apply to the apples of your cheeks. To find the apples, smile, and apply to the rounds. Apply your blush from the ear down to the cheekbone towards the mouth. Finally, add a little touch to the chin and blend it well to make the client's face appear longer. 


Oblong/long faces – Apply on the cheekbones placed below the outer corners of the eyes, blend well by going in upward motions and ensure the blush doesn't extend lower than the nose's tip. Helping in shortening features must be applied in a straight line to make a face appear shorter.


Triangular faces – We start by blending up from your cheekbones to the temple and extending to the brow a bit toward the center of the forehead. It must be applied in a sideways V on the cheekbones to balance the forehead's width with the rest of the client's face. 
Keep in mind, with a cream brush – you need to blend more as it goes on stickier per se. Dab, then rub. 
Choosing the right applicator depends on three things: your highlighter formula, the skin tone of the client, and the area on your face you're putting it on. As stated earlier, a highlighter is of different shades, and it must fit your skin tone. Use a white-based highlighter for fair-skinned tones. Use a yellow-based highlighter for golden skin tones, etc.
Using a highlighter always finishes a look. Dull makeup? Use a highlighter. Are you looking washed out? Use a highlighter. Sometimes if you choose not to wear a highlighter, this will make your makeup application look more matte or dull.

What does it do: The purpose of a highlighter is to accentuate your features that would typically reflect light. It allows the face to appear bright and glowing.

Which brush to use: For the lightest coverage, use a brush with thinly scattered bristles, like a fan brush.

Type: Liquid or Powdered 

How to apply it: Highlighter is applied on the cheekbones. The brow bone, nose, cupid's bow, etc. You use it on the face's angles and anything that you want to accentuate. However, it is essential to note that it must be well blended. To blend well, build it up in layers. Swipe your designated areas lightly with your fan brush until you reach your desired look.
Pro Tip: For a bright and popping highlight, swipe your fan brush through your highlighter, spray only one spritz of setting spray to your fan brush, and then apply! It goes on so beautifully.
Eye shadow, Eyeliner & Mascara
Makeup cannot be complete if the eyes are unattended; giving the eyes a bit of color makes you look classy, and it induces confidence in the client when appropriately applied. 
Using more than one eyeshadow color, ensure that you blend out harsh lines and make the transition from color to color a smooth and seamless one. Applying eyeshadow is an art that takes practice.
What does it do: Eye shadow is an essential part of the makeup process. It gives it flair making it catchy and attractive. The eye shadow absolutely must be blended correctly so that it does not look patchy or blotchy.
Which brushes to use: Professionals primarily use the brushes mentioned below, but you can opt for a cost-effective brush if you are a beginner, such as NYX or ELF.
Sephora Collection Pro Angled Lip #84 Brush.

Dior Professional Finish Lip Brush.

Tom Ford Eyeshadow Blend Brush 13.

Laura Mercier Flat Eyeliner Brush.
How to apply it: 
Start with a professional brush: although there are many makeup brushes, one of the above mentioned is ideal.

Pick your eyeshadow palette, get familiar with the different parts of the eye, and then compare the colors. Determine which is the lightest, medium, and darkest shades.  

Focus on the darker shadow: apply the dark shadow to the outer end of the eye. Applying on the outer end is vital because we want to blend it out with the lighter colors later.

Then, use your medium-toned color to the middle of the lid. And then, your next step is to close your eye, blend across and smooth out hard lines that may be uneven/blotchy by doing backward strokes until well-blended

Focus on your pigment and the outermost corner of your eye because that usually hits the colors to attract light. By placing a darker tone of shadow in the crease of the eye makes your eyes elegant. It adds depth and dimension to the exact spot.

Pro Tip: When a pro uses an eyeshadow palette or more than one color, it is essential to blend out harsh lines and blend properly to make the transition of color smooth and coherent. 
After you set your eyeshadow, it's the ideal opportunity for the eyeliner. A decent dependable guideline is that the eyeliner on the top lid should usually be about three times wider than the bottom. 
One of the main things to recall when figuring out how to apply your cosmetics is to get as near the lash line as could reasonably be expected and don't pull your lid taut to apply.
Types
Liquid eyeliner 

Gel eyeliner

Pencil eyeliner
What does it do: Enhances the eye shape
How to apply it: It is used based on the shape of the eyes; it can be oval, brown, or winged. The secret to applying perfect eyeliner is dependent on the shape to either make the eye appear going upward, or downward, or natural.
Start from the corner tip of the eyes or the end of the eyelid. You can either sweep straight across as close to the lash-line as you can get or sweep out a little wing at the end of your eye!

For the winged eye, draw the wing first at the edge of your eye, pointing a tiny bit upward, and link it to the rest of the eye lining. A more natural trick is to place small dots where you want your winged liner to go from the front to the end of your eye, and then connect the dots with your liner. It's easier to visualize that way and much easier to stay on track. 

Under the eyelid, it's best to use an under-eye pencil and line the inside only. If you want a smoky look, use a brown eyeshadow and blend it out. If you don't feel comfortable, do not pressure yourself because it is a delicate area and might result in abrasions. An under-eye pencil must be smooth and glide freely, not to hurt.
Eye Shapes:

Upturned Eyes: Apply a thin line of eyeliner to the top, and a rounder, little bit thicker line to the bottom to make the eyes appear rounder.

Almond Eyes: The universally perfect eye shape! You can apply your eyeliner; however, you'd like to – wing, flick, or merely lined!

Down Turned Eyes: Start by working on your top lid (dot where you want your liner, first, if that makes it easier), wing your liner past your regular eyes width, and then connect the dots! A wing allows the shape to appear upward if applied correctly.

Mono-lid Eyes: For this eye shape, you can apply any technique, but remember that when doing so, use your eyeliner thicker because of the eyelid's excess skin. We want you to be still able to show off your beautiful glam!

Pro Tip: The kind of makeup determines the eyeliner because it must move in that direction. It can also be the makeup of the eyes alone because it can serve the eyeshadow's function depending on the makeup, and it is called a 'smoky look.' For a smoky look, the eye is usually black, and it also has colors, but the smoky look is often the best, but your creativity can make the other colors look bright.
The first question is how you want to enhance your lashes to pick the best mascara for you. Do you want them longer? If you need longer lashes, pivot your brush slowly as you put on the mascara.

What does it do: Accentuates the lashes and allows your eye to appear larger.

Applying it: If you want thicker lashes, wiggle it back and forth up, but begin by rotating before the wiggles! Helping it with the curl. For best mascara performance, use some of your translucent powder and dust it lightly over the primer. Before it dries, utilize a lash brush to isolate lashes and eliminate clusters. All you need is a light coat! 
Lipstick gives a different look to every one of us. The shade of lipstick that is worn could completely change the concept of the look you want. When the aim is a natural look, lipstick's natural shade should blend well with the makeup. Heavy makeup would also require a shade of lipstick that matches the look. Like the eyeshadow, it also induces confidence in the wearer. Selecting the correct shade of lipstick is hard to do. Different people have different undertones, so when you apply that peachy pink lip to one person, it may look even peachier on the next.
How to apply it: Line the lip using a liner before applying the lipstick to add definition. The lip pencil can also be darker or lighter than lipstick, depending on the look you want. 
Utilize a neutral color or a liner that is one shade lighter than your lip tone. Use makeup remover on a cotton ball and carefully remove the excess. It's easy to make a mess when it comes to lip color! 
After you apply lipstick, use a lip brush to blend the lipstick properly, and concealer can be used around the lip to remove the extras. By doing this, you allow the lips to pop even more, allowing a sharp, clean look surrounding the lip area and making it look fuller than it is, depending on the look you want! If your eye makeup is bold, it's best not to go with a bold lip as it takes away from the face's rest. If the makeup is natural, you could get away with a bold lip!
No matter the kind of makeup you use, the lipstick or lip gloss needs to be on point. The rest of the makeup flows nicely; some makeup artists prefer matte lipstick to the regular ones because matte lipsticks do not leave stains after being perfected, unlike regular lipstick that leaves marks when they have been touched.
As the name suggests, setting spray is to hold everything in place.

Set everything using a makeup fix spray: allow to dry before applying bronzer and blush. Blend the blush into the face to fit into the makeup and not leave a different patch on the skin. You can likewise utilize a setting spray as a refresher throughout the day!
Makeup ought to be perfect and flawless to express an avalanche of beauty that radiates from within. Getting flawless makeup, there are certain things you must NOT do.

The following are the "don'ts' on the makeup process:
Do not over-wash your face: It is ideal for washing your face twice daily – once toward the beginning of the day and once around evening time, utilizing a mild, gentle cleanser. Over-washing will only cause your skin to dry out; we do not want that!

Apply makeup on dry skin: Ensure that your face is adequately hydrated before you apply makeup. You are leaving the face moist and able to absorb the makeup without making it patchy and cakey. We composed an article here on the best way to apply makeup on dry skin. Click here. 

Overdo the foundation: Too much foundation will do no good to your face, and your makeup will end up looking cakey, no matter how much powder or setting spray you use. Not to mention, it can cause you to break out later.

Apply makeup in the wrong lighting: Pick what suits you best in the best light possible; you need to test it on your skin in natural lighting. You could do your makeup in a darker light, but when you see it in natural light, it might be more substantial or darker than you thought!
Start by cleansing, exfoliating, and toning.

Primer and foundation help create a blank canvas for your face. Concealers help to hide blemishes and imperfections. Setting powder is used to hold the base (primer, foundation, and concealer) in place. 

Learn your eye shape and apply your eyeliner based around it.

Dab, don't rub when placing concealer, and be sure to use the color wheel for color correcting.

Eye shadow, eyeliner, mascara, and lipstick/lip gloss help add more enhancement and keep that glow going.

Bronzer, blush, and highlighter help to reflect or gain light. 

Finally, the setting of spray and powder holds everything in place.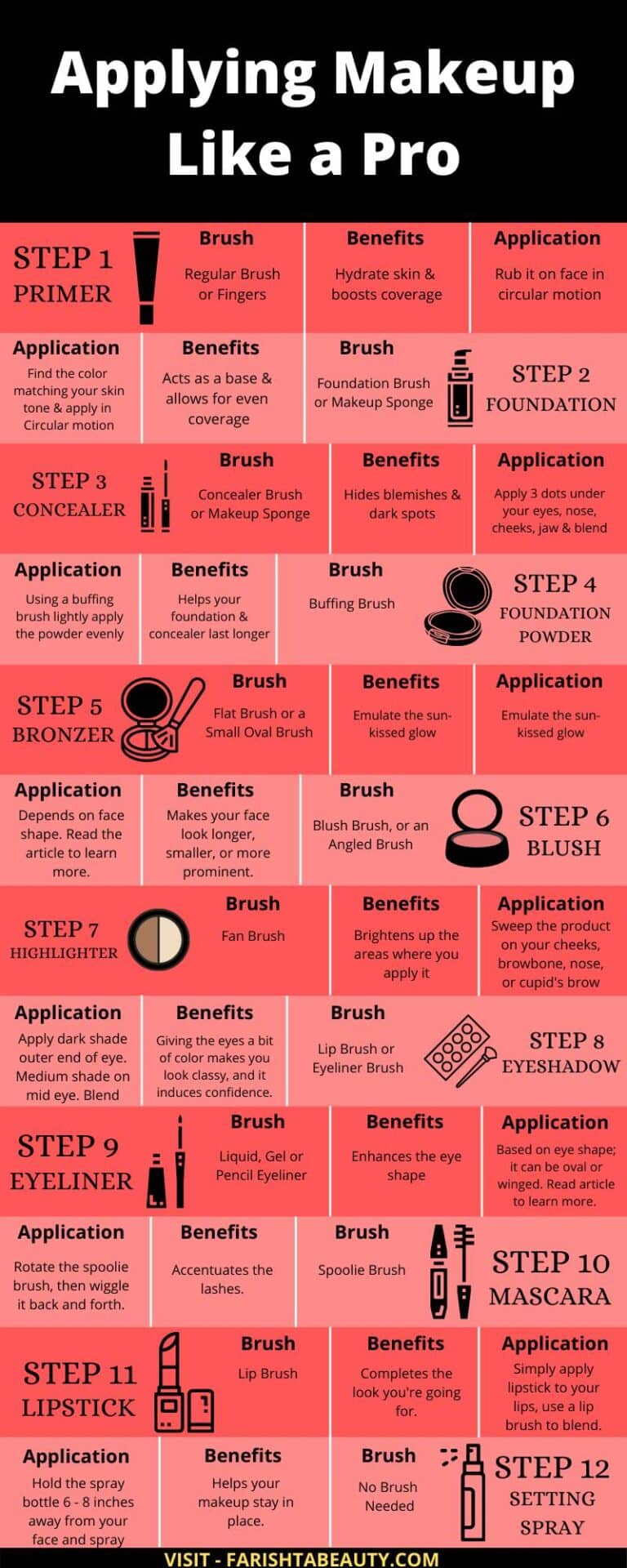 To apply makeup like a pro, you need to take a step by step approach, and you need your time to use it correctly. I've said it many times makeup is an art. It requires some investment, practice, and loads of experimentation. You wouldn't rush the Vingo, so why rush the artwork on your face. These tips will help ensure you have a perfect application, and remember: you don't need to apply every product! Do what turns out best for you and your skin.