Should We Be Using a Beauty Blender or Foundation Brush for Applying Foundation?
As a makeup artist, I have always been curious about which we should be using and which works best for you. A lot of my clients were asking what's best for them. A beauty blender or a brush to apply foundation. So, I ran some tests. Call it professional curiosity. 
Foundation brushes are the best to apply foundation because less product is wasted, gives full coverage, thus giving you great results. However, for newbies, a beauty blender is more comfortable to use because it's easier to apply. 
What is a Beauty Blender?
There are two types of Beauty Blenders:
Beauty Blender come in all types of styles, shapes, and colors. Many people new to makeup use a Beauty Blender to apply foundation as it is a bit easier, helps give you a flawless foundation look, and a useful tool for starters. 
The Beauty Blender is a multipurpose sponge used for everything, foundation, concealer, and bb cream you name it! Sometimes I even use it for contouring or using it as a setting powder tool. It is an excellent way to blend any cream or liquid product on your face. 
When it comes to Silicone, they are the same thing as a Beauty Blender. The only difference is that the structure is made of large molecules with more expansive spaces. They create a matrix that is breathable and protective on the skin. 
My favorite Beauty Blender and Silicone are the following:
BeautyBlender
Real Techniques Miracle Complexion Sponge.
Nylea Silicone Beauty Blender
Since Beauty Blenders more common, we will focus on that for the remainder of the article.
How to use a Beauty Blender?
| Step | Instructions |
| --- | --- |
| 1 | Wet the Beauty Blender under warm water |
| 2 | Squeeze out the water so that it becomes damp |
| 3 | Apply your favorite foundation onto the damped Beauty Blender |
| 4 | Start dabbing the foundation onto your face until blended nicely |
Pro-Tip: It is important to start in the center of your face and then start blending into the jawline. 
The benefits of using a Beauty Blender
| Benefit | Description |
| --- | --- |
| Size | Beauty Blender are small in size; therefore, they are easy to carry around. |
| Weight | Super light weight. They are not heavy |
| Usability | They are straightforward to use when trying to blend a cream or liquid product on your face |
| Price | Beauty Blender are inexpensive. You can buy them in packs to save more money |
| Shape | The standard looking Beauty Blender is a pear shape. They also come in different forms, which is kind of cool because if you are trying to blend a specific area such as your under-eye, you can look for a smaller Beauty Blender. The best part is it helps get into hard to reach places, nooks, and gaps |
| Finish | Beauty Blender are hydrophilic, meaning it absorbs water. When you wet the beauty sponge, it soaks up the water, giving an airbrushed look when you use it. Not leaving any lines |
The negatives of using a Beauty Blender
Despite knowing the fact that Beauty Blenders are super cheap, easy to use, and are easy to apply on our faces. However, there are some things that Beauty Blenders are also known for, which isn't that good.
| Negative | Description |
| --- | --- |
| Absorption | Beauty Blender do absorb a lot more of the product than foundation brushes—this results in a lot of foundation. |
| Time | If you are in a hurry and do not prep your skin properly and use a Beauty Blender your skin will become dry quickly. |
| Frequency | You will need to purchase a new Beauty Blender frequently. The reason is that they sometimes rip if used often, especially having old built-up makeup is not a good thing to keep using on your face. |
Common Types of Beauty Blender
What is a Foundation Brush?
A foundation brush is a tool to help you apply foundation on your face. There are many types of foundation brushes at any beauty store. Foundation brushes come in many different sizes, and depending on the type of foundation brush you are looking for, the prices vary.
When it comes to getting a flawless look, try to get a stippling brush; this helps give a perfect look and layer the foundation evenly. Stippling brushes are good with powders—however, its best use for cream or liquid foundation. 
I love to use a stippling brush. The reason is that it lasts long for me and works best with my foundation.
Some of my favorite foundation brushes are: 
Revlon Foundation Brush
Real Techniques Face Foundation Brush
Smash box Foundation Brush
How to use a foundation brush?
| Step | Instructions |
| --- | --- |
| 1 | Make sure the foundation brush is clean |
| 2 | Mix the foundation brush into the foundation |
| 3 | Apply foundation onto your face lightly in a circular motion and blend the foundation into your skin |
Pro-Tip: Remember never to use your foundation brush wet as it gives you the streaks on your face
Part of A Stippling Brush
The benefits of using a Foundation Brush
| Benefit | Description |
| --- | --- |
| Professionalism | Used by many professional makeup artists |
| Speed | Using a foundation brush is one of the fastest ways to apply foundation. |
| Finish | A foundation brush blends nicely, giving an airbrushed finished |
| Price | A foundation brush may seem expensive, but it doesn't absorb as much product as the Beauty Blender. So you save money on foundation. |
| Coverage | The Foundation brush provides great coverage since all the product is applied on your face. With a foundation brush, you can control over coverage, and it is super easy to layer using a brush. |
| Sterility | A lot more hygienic |
The negatives of using a Foundation Brush?
| Negative | Description |
| --- | --- |
| Storage | These brushes need to be taken care of properly. If you do not store them properly or travel with care, the bristles can bend and break. |
| Quality | You need to be careful when you are purchasing foundation brushes. The quality matters |
What to look for in a Foundation Brush
Bristles need to be thick
Bristles need to be full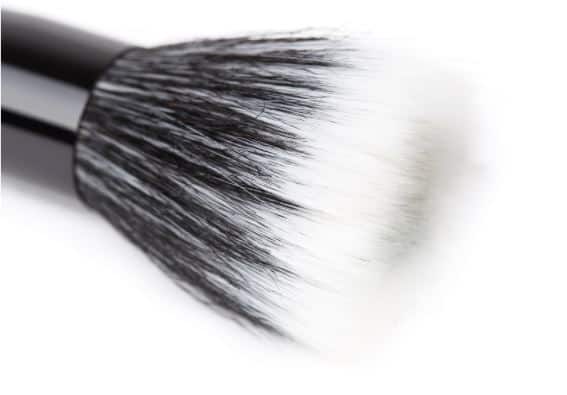 It is essential always to understand which tools work best for you because these tools are what help you get a flawlessly beautiful look. 
As a professional makeup artist, I tell many of my starters to start with a Beauty Blender. As you gain more experience, start investing in a foundation brush.
You will not only be able to learn how to apply foundation but will be able to try different types of foundation formula and be able to tell if you have oily skin or dry skin and which foundation color suits you. It is all about practicing, and it's okay to make mistakes; we learn from them. 
I like to use a combination of these two. I like to use a foundation brush to apply foundation. After using a foundation brush, I take a Beauty Blender and dab in areas to blend even more when I am ready. There is no right or wrong method at the end of the day; what matters is knowing what works best for you and so try both ways and decide for yourself what you truly like. 
I hope my article helped you understand better what tool you would prefer, and if you have any questions, feel free to let me know, and I'll be happy to help.
Whether you go with a foundation brush or a Beauty Blender, learn how to get your foundation to last all day by clicking here.