Eye Makeup With Yellow Dress
Yellow represents the sun. It is a vibrant and bright color, making it tricky to choose what eye makeup best complements it. A yellow dress is ideal for a wedding, bridal or baby shower, the office, an evening out, or a garden party. If you are feeling low and moody, a yellow dress can instantly brighten your mood. 
The different shades of yellow make it suitable for all skin tones. The perfect eye makeup can accentuate and complement your look. Therefore, it is vital to choose your eye makeup perfect to wear your yellow dress. 
The best eye makeup to wear with a yellow dress is to wear warm eyeshadow shades with your yellow dress. Gold eyeshadow shade tops the list because it complements the yellow dress the most.
Gold and bronze eyeshadows are flattering and can take your look to new levels. It is essential to get the right shade for your skin tone. Rose gold and mustard gold eyeshadows flatter the pale skin of people with light skin. 

These two will not leave you looking washed out. If you have a medium skin tone, rich gold shades will complement your look. Go for white gold and antique gold eyeshadows. And if you have a deep skin tone, then a perfect gold shade will make you look like a goddess. Pure gold eyeshadows are the ideal choices for you. You can see that regardless of your skin tone, you will be able to rock your yellow dress with gold eyeshadow. 

You can wear the shades to the office and evening dates or events and still look good. So do not shy away from these magnificent eyeshadow shades when you are wearing your yellow dress.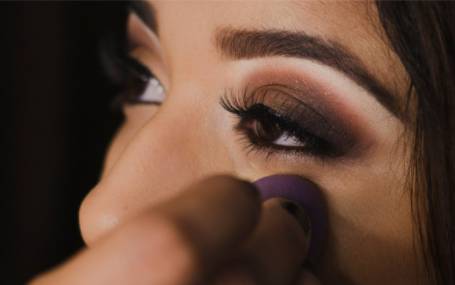 Peach eyeshadow, when paired with a yellow dress, will transform your look into a classy and sophisticated one. Finding the right shade for your skin tone is also vital. Peach with a hint of pink is perfect for light skin tones. Peach eyeshadow shades that are too warm will create too much contrast, so avoid them if you are medium skin tone. 

More intense peach eyeshadow shades complement medium skin tones. And for deep skin tones, peach eyeshadow shades with a hint of orange are perfect because they brighten up your look. Peach is an excellent choice if you intend to spend the day at the office, outdoor events, or an evening date. Ensure that you do several touchups all day to keep it looking fresh.
Black and Dark Grey Eyeshadow
Black eyeshadow is not for everyone, especially if you do not like being the center of attention. If you feel black is too dark and don't want to risk looking gothic, then go for dark grey. They both have the ability to adding drama to your look. 
You have to be careful with these shades because you can quickly go overboard. Ensure that you do not do multiple coats and blend in well with your concealer to make it look more classy. These two eyeshadow shades go well with all skin tones. You can wear these eyeshadows on casual workday and outdoor events.
Green is a color that requires confidence to rock. Choosing the right shade for your yellow dress will make you stand out from the crowd. When going green, select a shade that is not too bright. Stay away from neon and lime green and go for darker shades of the color. You can wear green eyeshadow to outdoor events like weddings and bridal showers. It is not ideal for office and business meetings.
Brown eyeshadow is probably one of the most versatile. You can rock your yellow dress with almost all the shades of brown eyeshadow, making your makeup look more natural. Light brown is best for light skin tones. While dark, more rich shades are ideal for deep skin tones. Medium skin tones can play with either dark or light shades of brown. You can wear brown eyeshadow to day and night events without worry. 
What to note when applying Eyeshadow with a Yellow Dress
Remember that for your eye makeup to pop; you have to make sure your eyebrows and eyelashes are on point. Eyeshadow draws attention to the eye, and you don't want attention to a part that is half done. So make sure that you do your eyebrows well. If you do not have many eyebrows to work with, do hair-like strokes to fill them up. Do not draw over your eyebrows; make them look as natural as possible. 
Eyelashes can also make a difference in how you look. You can choose to go for false eyelashes if you are going to an event. Falsies will accentuate your eyes and make you stand out. If false eyelashes are not your thing, you can always get mascara and apply to give some form to your eyelashes. Mascara makes your eyelashes look longer and voluminous, thus making them look healthier. 
It would help if you also line your eyes. Eyeliner can change the shape of your eyes, making them look bigger and brighter than they are. 
These various components cooperate to make your eye makeup pop.
When choosing eye makeup, it is essential to put into consideration your eye color. Your eye makeup should complement and match your eye color
Green Eyes, Yellow Dress - Which Eyeshadow?
Green is rare eye color. But no need to fret; if you have gorgeous green eyes. Like everyone else, you still can rock your yellow dress with your green eyes. Go for gold eyeshadow to pair with your dress. Gold is not an overpowering shade and will complement your eyes perfectly. Green is bright, so you want to avoid bright colors. To complete your look, apply bronze eyeliner and brown mascara. To prevent your eyes from looking pink, you can use black eyeliner first before applying your bronze eyeliner. This look is perfect with your beautiful yellow dress.
Blue Eyes, Yellow Dress - Which Eyeshadow?
Blue is a beautiful color, and when you have it as your eye color, even better. With this eye color, you want to stay away from bright colors because, like green, blue is a bright color. Pinky peach eyeshadow would be great for your blue eyes. For eyeliner, use gold or warm copper to brighten your eyes and make them look bluer. If you prefer something darker, then go for navy eyeliner. You can then use brown mascara. 
Brown and Black Eyes, Yellow Dress - Which Eyeshadow?
Brown and black eyes are the most common and versatile eyes. You can wear almost any eyeshadow shade with these eyes and pull it off. To complement your yellow dress, try a dark green on. Green is a color that mixes well with yellow. It also makes the brown in the eyes brighter. Complete your eye makeup by applying brown eyeliner and mascara instead of the typical black. 

If you are too nervous about doing a bold color such as green, an alternative would be grey. Grey is an eyeshadow you can wear to the office and business meeting.
Hazel Eyes, Yellow Dress - Which Eyeshadow?
Hazel eyes are between brown and green eyes, which means that you can wear eye shadow shades with green and brown eye color. Dark green with a little shimmer will do justice to your eyes. Green eyeshadow will bring out your hazel color well. You can finish off the look with black eyeliner and mascara. However, if you want a more neutral look, then go for gold or brown eyeshadows. These eyeshadows will accentuate your yellow dress without looking overpowering. 
Grey Eyes, Yellow Dress - Which Eyeshadow?
Grey eyes are also rare, and this can make it challenging when choosing the right eye makeup. Grey eyes are attractive and do not require much makeup to enhance them. For this eye color, pinky-peach eyeshadow shades are ideal. Apply black eyeliner and mascara for a complete look. 
To sum up, eye makeup can be the difference between an okay and classy look. The eyes speak for you even before you open your mouth. Therefore, it is crucial to ensure that they look beautiful, elegant, and sophisticated. Thus, ensure that you strike a balance between your eye color and the shades you choose for your eyes. Blend your eyeshadow and make sure there is no contrast between your eyeshadow and eyeliner. There should be a smooth transition from your eyeshadow to your eyeliner. For instance, if you go for a neutral eyeshadow shade, make sure the eyeliner is not too bold or bright. Ensure that that eye makeup does not take all the attention away from your yellow dress.