Can eyeshadow be used for contouring
Absolutely. Eyeshadow palettes can be even more effective than usual contouring pallets due to the wide variety of shades and textures available. Standard contour sets only contain an average of three shades, whereas eyeshadow pallets can have anything between three to thirty shades allowing you to find your skin's perfect match.
What are the best eyeshadows for contouring?
The best eyeshadows palettes for contouring your face are those containing neutral shades. 
Eyeshadow palettes that contain earthy-toned hues provide the most natural finish and are easier to blend into the skin.
How to apply eyeshadow as contour?
For a primary, more simple contour effect, two eyeshadow hues are sufficient to create a contoured aesthetic.
However, to achieve a more elaborate, sculptured effect, you will need at least three eyeshadow hues.
Start by choosing eyeshadows that are two to three shades deeper than your natural skin tone for sculpting. Use a contouring brush or beauty blender and tap the darker eyeshadow shade underneath your cheekbones, along your hairline, and underneath your chin, using circular motions.
Blend out the eyeshadow until it looks natural, and then, using a highlighting brush, pat the lighter eyeshadow shade along your brow bone, cupid's bow, and on top of your cheekbones. 
Deeper eyeshadow shades help sculpt and structure your face, while the lighter shades create the illusion of shadows, highlighting facial features.
When contouring with eyeshadow, take care not to overdo it. Contour shouldn't be noticeable, and the aim is to accentuate your best features, avoiding an overly sharp and harsh finish.
You should also pick appropriate tools to apply the eyeshadow.
For powder eyeshadow, a thick eyeshadow blending brush works well, while when applying a cream or liquid eyeshadow to contour, consider using a damp beauty blender or foundation brush. 
What finishes of eyeshadows are best for contouring?
Eyeshadows, whether cream or powder, comes in two finishes, mattes, metallics, and shimmers.
If you're going to contour your face with an eyeshadow product, matte eyeshadows are the most effective in sculpting your face.

Shimmery and metallic eyeshadows are great for highlighting cheekbones, browbones, the bridge of your nose, and the cupid's bow.

What are the best neutral-toned eyeshadow colors for contouring?
The neutral hue you select will depend largely on your natural skin tone and the undertone of your skin.
Regardless of whether your skin is light, medium, or deep, as a general guideline, pick a sculpting shade two shades darker than your natural skin tone (which also suits your undertone) and two shades lighter for highlighting.
How do I choose the correct eyeshadow hue for contouring?
Sometimes, simply choosing a shade based on your skin tone is not enough to achieve a natural contour. Your snake tone, as well as your undertone, plays a huge role in perfecting your contour.
Tips for choosing shades based on skin tone
For fair-to-medium skin tones:
Neutral taupes are great eyeshadow shades to contour with as they mimic the look of authentic shadows on your face bringing your contour to life. Contrast is the most crucial factor to consider when contouring your face, and therefore, you must choose the right shade to compliment and sculpt your face.
For olive and tanned skin tones:
Eyeshadows with a deep and golden (not shimmery) hue will not make your contour appear ashy.
For deep skin tones, select shades that are deep yet warm. Deep rich browns provide the perfect balance of blue and red undertones, helping you achieve a natural contour.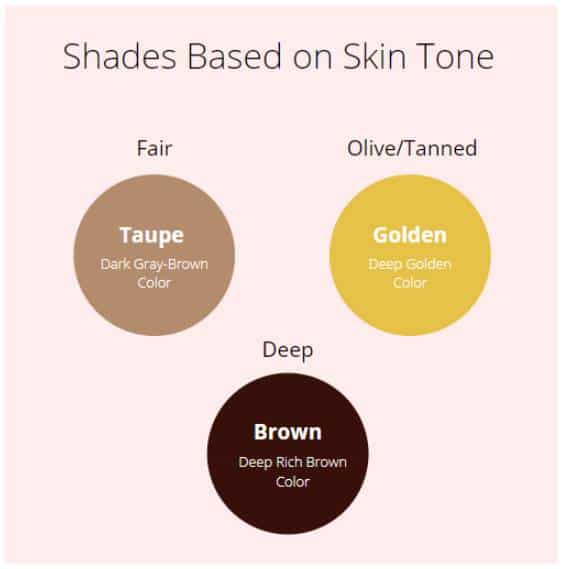 How to determine the undertone of your skin:
The insides of your wrist will help you determine your skin's undertone.
Skin with a warm undertone has a golden, yellow, honey, or peachy tone. 

Skin with a cool undertone contains hints of red, pink, or blue
Skin with neutral undertones has not apparent warm, blue, or pink undertones.

Can I contour my face with eyeshadow after applying foundation?
Yes, you should prep your face first before applying eyeshadow to contour.
If you're using a powder eyeshadow to contour, you should first apply setting powder over your face to ensure that the eyeshadow blends appropriately and doesn't become cakey.
When using a cream or stick eyeshadow as contour, do not set your face with powder first as this will cause the eyeshadow to appear streaky, and blending it out will be difficult.
What's the difference between contouring with eyeshadow vs. a contouring palette?
What type of eyeshadow is better to contour with powder or cream?
Is it safe to contour your face using eyeshadow?
Yes, eyeshadows are naturally safe as they are designed with the delicate eye area in mind.
Applying them to your face should not cause any issues, but always be sure to read the product's ingredients, especially if you have sensitive skin that's prone to allergies.
Can I use liquid eyeshadow to contour?
Liquid eyeshadow tends to dry down very quickly and is challenging to blend, making contouring difficult. Stick to powder or cream eyeshadow to achieve a more natural aesthetic.
Can I use eyeshadow sticks to contour?
Eyeshadow sticks can be used to contour, provided that they are not the quick-drying variant.
Eyeshadow sticks that dry too quickly make the blending process difficult, resulting in a cakey, streaky finish.
What are the best eyeshadow shades to contour fair to medium skin?
If you have fair or have medium skin with warm undertones, earthy tones will look great on you.
Any shade of brown, including pinkish-browns, will suit you. Avoid copper or bronze shades as they look unnatural.
If you're fair or medium with cool undertones, neutral shades, especially browns with a greyish, are perfect.
What are the best eyeshadow shades to contour olive skin?
Having olive, tanned skin tones means that you can use any neutral shades of eyeshadow color to contour.
What eyeshadow shades are best for contouring deep skin?
With deep skin, select eyeshadows that are two to three shades lighter than your natural skin color, as these will help you sculpt and create definition.
To accentuate the areas where the light will naturally hit your face, apply an eyeshadow shade with warm gold, copper, and chestnut undertones, giving you a natural and glowy look.
Does the quality of the eyeshadow affect how my contour will look?
Higher-end eyeshadows are usually produced from better quality ingredients and are more pigmented than their cheaper contour parts. However, you can contour with any pallet, whether drugstore or lux, provided that you apply the eyeshadow during the contouring process correctly.
What brushes can I use to apply eyeshadow as contour?
Eyeshadow pallets are usually smaller than contour pallets making it more difficult to dip in using a standard contour brush.
Opt for a highlighting brush or an eyeshadow blending brush to apply the product. 

Once the eyeshadow is applied, use blending brushes, kabuki brushes, or a beauty blender to create your contour.

Should I use a beauty blender to contour with eyeshadow?
If you opt for powder eyeshadow to contour, a brush is better in terms of application.
If using a cream eyeshadow to contour, a damp beauty blender is great to achieve a perfectly blended and natural aesthetic.
What things should I avoid when using eyeshadow to contour?
Avoid applying too much product. As eyeshadow can be highly pigmented, avoid applying it with a heavy hand. 

Contour should enhance your natural beauty and go overboard, resulting in an unnatural, overly visible, and patchy result. 

Always apply as little product as necessary and then build it up if necessary.

Avoid metallic and shimmery eyeshadow during the sculpting phase as they look unnatural due to the light-reflecting pigments they contain.

However, do use shimmery eyeshadow shades to highlight cheekbones and accentuate the cupid's bow and brow bones.
Suppose you're a budget-conscious beauty, looking to save money on products, or are simply taking a more minimalistic approach to makeup. In that case, eyeshadows can eliminate the need to purchase contour palettes.
With an array of shades, formulas, and textures to experiment with, you'll be able to find the perfect hue to complement your skin tone and can create a stylish and photo-ready contour look suitable for any occasion.
A good quality eyeshadow pallet will contain everything you need to effectively contour your face like a professional without breaking the bank.