Positive Effects of Wearing Makeup
Makeup has been an essential part of life for as long as time itself. The styles and trends continue to evolve, with new looks springing up almost daily. People are becoming bolder and more experimental across all age groups when trying out different looks. 

Wearing makeup does a lot more than making you look good. Makeup can be transformative in so many ways. Recent studies have shown that learning to apply the right blend of makeup has contributed to the success of women all around the world. So many women have experienced the positive effects of wearing makeup. 

There are several positive effects of wearing makeup. One of the most important results is that makeup is a big confidence booster. For a lot of people, makeup forms an integral part of your daily beauty arsenal. From liner to lipstick and blush, so many products exist to elevate how you feel about yourself. 
Below are the benefits of wearing makeup and why everyone is so into it these days. 
Makeup is a great confidence booster
Being a confidence booster is the most significant positive effect. Wearing makeup makes you feel more confident and can serve as a big morale booster. Women who have makeup on are more ready to go out and take on the day. 

Wearing makeup gives you an increased sense of control and is a great way to get your mind in a positive space while you head out to face the hurdles in the world. 
Makeup protects your skin and keeps it safe from UV Rays
Makeup protects your skin and keeps it safe from pollutants such as smog that can be harmful to your skin. When you wear makeup, it creates a thin barrier around your skin, keeping it from direct exposure to air pollutants. Although makeup does not offer 100% protection, it reduces the possibility of harm.

Makeup is also an excellent protectant against sunlight or ultraviolet rays. Wearing it can help keep your skin safe from sunburns and hyperpigmentation. There are makeup products that contain SPF, which offer even double the protection.
Makeup helps to enhance your appearance
Everybody loves a killer look, although sometimes it can be a bit difficult to achieve. Makeup gives you the right amount of glitz and glam you need to look your best. Wearing makeup can elevate your look, making your countenance inviting and outstanding. 

More importantly, makeup is an excellent way to highlight the natural features that you already have. Blush can make the cheeks more noticeable, adding a bit of color that gives you a cherry, happy look. 

Suppose you notice that your natural features are not very visible in photos. In that case, makeup can help accentuate your features. makeup can help brighten your face and give your look a great style, adding a perfect touch and making you look your best for the camera.
Makeup is fun and great for self-expression
Makeup is a great way to express yourself. Whatever makeup look you decide to pull off says a lot about your personality or mood. You can try various types of looks to find what works best and adequately communicate your kind of person. Some people favor earth tones over brightly colored makeup, while others look their best in exaggerated eyeshadow and heavily lined lips. 

For events such as carnivals, Halloween, or even a fun costume party, makeup is a great way to complete the look. You can experiment with several eyebrow designs, color palettes, eyeliner, and so on. 

Makeup can be a lot of fun. You do not have to wear makeup only when you want to head out or attend an event. Trying on various looks can be a great way to unwind and relax after a long hard day. Getting up and heading out every day can be exhausting, and the idea of putting on makeup can be the release you need. 
Makeup can help you look younger
As you grow older, it becomes a bit more challenging to hide wrinkles, aging spots, fine lines, and other skin blemishes that come with age. A beneficial effect of makeup is that it helps you conceal these skin imperfections easily, giving you a younger, more rejuvenated look.

The complexion of your skin might be uneven and appear patchy in some places. This sort of complexion is usually more noticeable on your face, and it can be a hassle trying to manipulate it when you are putting a look together.

Products such as concealer and foundation can help blend your skin tone, making your complexion appear brighter and more attractive. Due to the protection makeup offers your skin, it is a lot easier to have a healthy, color corrected skin tone.
Wearing makeup can be therapeutic and give you alone time
Shopping for makeup products and applying makeup can be therapeutic. Many people hardly have enough time for themselves. Shopping for makeup products and taking time to use these products can be a great way to unwind. 

Equally, getting a makeover from a professional makeup artist can give your entire mood a turnaround. If you feel a bit low or uninspired, consider getting a makeover to switch things up and leave you feeling brighter.

The period you take out every day to put makeup on can be a great time for self-reflection and planning. You can go over your plans for the day and set the goals you intend to achieve.

You also get to pay more attention to your face and skin, appreciating your features and becoming aware of your beauty. 
Makeup can be a great career opportunity
Makeup is more than just looking good or outer beauty. Many people are starting to monetize their skills and earn a living by creating stunning makeup looks. For them, it's not just a hobby; it's a means of livelihood. Makeup offers several career opportunities, including special effects makeup for movies, bridal makeup, runway looks, and even the cosmetic industry. Professional makeup artists are also branching into esthetics and dermatology, rendering expert help to people with skin concerns.

Beauty enthusiasts help ensure that cosmetic companies use cruelty-free products to test, create helpful tutorials, and create marketing campaigns.
Makeup allows you to cleanse your skin daily
At the end of every day, you need to take your makeup off to prevent clogging your pores and causing irritation. The great news is that regularly cleaning your facial skin will leave your skin feeling rejuvenated and looking healthy. Cleaning will help remove excess dirt and anything else blocking your pores, helping them stay clear. 

When you regularly wear makeup, cleansing will become a habit and automatically form part of your routine, ensuring that your skin continues to glow.

Wearing makeup can make one appear more put together and indicates that effort is put into your appearance. It makes you appear self-conscious and helps you stand out from the crowd. 

Makeup is a great way to exercise control over your skin, helping you get that look you desire and deserve.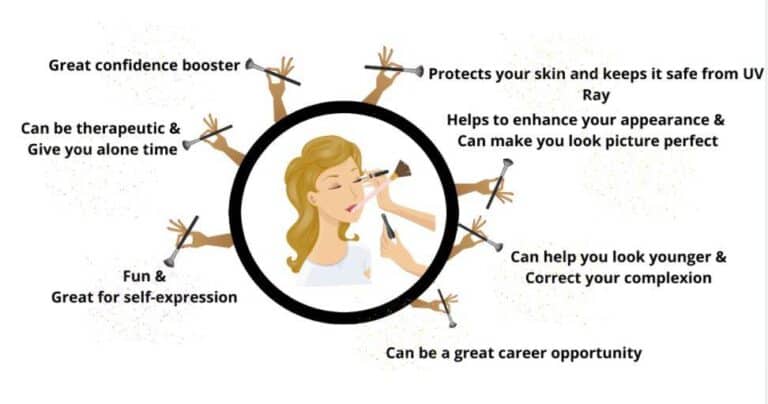 The positive effects of wearing makeup go beyond just looking good. Makeup, for many people, is a way of adding purpose and meaning to their lives. Makeup is a form of art and self-expression for so many people. It is more than just a mask for highlighting assets and covering imperfections.

Makeup motivates people to pull through tough times by creating a safe space outside the real world's problems. It is a significant confidence boost, preparing you to take on each day beautifully. 

Although there are many benefits and positive effects of wearing makeup, try and find out how makeup works for your skin. Test products before purchasing to make sure you do not have any reactions or allergies. If you do not know what shade of foundation or concealer works for your skin tone, you can consult with a beauty store expert and try swatches. 

Above all, always remember that you are beautiful with or without makeup. Yes, wearing makeup can highlight your features and give you a more defined face; it is not a marker of your beauty. You are stunning whether or not you choose to wear makeup, and that's all that matters.