Removing Makeup Using Baby Oil
Makeup makes us look pretty but wearing it for a long time, especially overnight, is never healthy for the skin. Good skincare always starts with letting your skin breathe. We do scrubbing and leather up tons of soap on our face to remove makeup, but sometimes this is not enough. 

Soap and scrubs, alone, may not remove your makeup even after you rub it for a reasonable amount of time. Soaps and scrubs are also a bit harsh on the face and might irritate. Our skin deserves better and needs more attention than we give to it. 

We should choose the best products when it comes to our skin. But wait! Do the best products mean more expensive and high-end products? No! A good option is Baby oil. Yes! You heard it right. Baby oil can be your next go-to cleanser. All you need to buy is baby oil, and you will see how your cleansing game will be tossed.    

To utilize baby oil as a makeup remover is a simple and easy task. All you need is baby oil and a cotton pad. Start with removing your eye makeup first, then remove your face makeup and finally finish off by removing your lipstick. It is also important to cleanse your face after you have removed your makeup.
Using oils on facial skin is completely fine. You don't have to stress over any breakouts or rash when you use any oil on your skin. Baby oil does not contain any harmful chemical that can give any allergic reaction to any skin type. All the ingredients in baby oil are the ones that help to nourish your skin and make it soft and hydrated.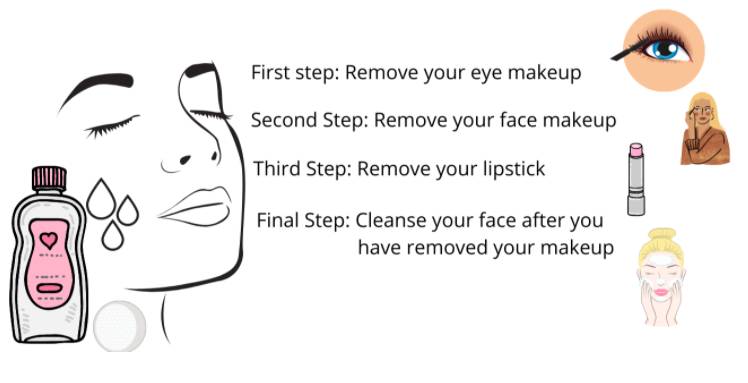 Is using baby oil to remove makeup right for your skin?
Using baby oil to remove makeup is super safe for your skin, especially if you have a dry or sensitive skin type. Sometimes, your eye makeup contains glitters, waterproof mascaras, and other harsh materials. When you use a makeup removing wipe or a cotton pad soaked in water-based makeup cleaner on your skin, your skin may rash. Also, makeup cleansers do not always clean the makeup in one go. It would help if you did a double cleanse to remove all the makeup, making your skin prone to rash. The rash most commonly occurs around the eyes.

Unlike simple makeup removing wipes, cleansers, or facial wash, baby oil is super soft and gentle on the skin. When you rub the cotton pad soaked in oil on your skin, there are no chances that your skin will get any rash. Even if your cotton pad's material or whatever wipes you will be using is hard and harsh, the oil will soften it to use on your skin. Using oil by people with dry skin types will prove to be a blessing in disguise. The oil will nourish the dried skin and will leave it soft and moisturized. 

Oils also do a deep cleansing of the pores. Often coconut oil is used on acne-prone skin to prevent acne. Similarly, baby oil is equally suitable for cleaning the pores and making your skin breathe.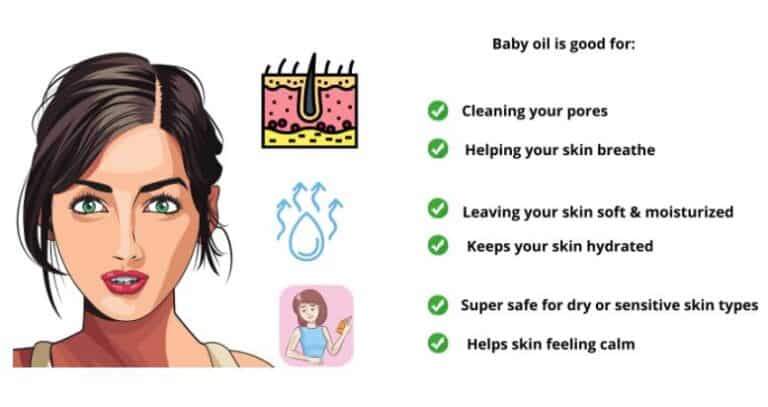 Baby oil is genuinely designed for babies. It keeps the skin of babies smooth, soft, gentle, and rash-free, yet considering the ingredients of the product before using it on your skin is crucial. Mainly, baby oil contains mineral oil, fragrance, aloe leaf extract, tocopheryl acetate (also known as Vitamin E), and water. All these ingredients are super useful for the nourishment of the skin. 

A more significant part of baby oil is Mineral oil. Mineral oil and vitamin E give moisture to the skin. Your skin will feel hydrated and soft after you will treat it with baby oil. Vitamin E is yet another ingredient because we prefer baby oil over any other makeup cleanser or remover. People use vitamin E capsules in many high-end facials and other beauty treatments. 

Aloe leaf extract also brightens the skin. Thus, baby oil has all the ingredients that you wish to have in your makeup remover. The fragrance in skin products might cause mild allergies to some skin types, but baby oil has a tiny part of fragrance in it.   
How to use baby oil for removing makeup?
Removing makeup using baby oil is a pretty simple and easy task. You do not have to do many struggles. All you need is baby oil, a cotton pad, and a few minutes from your hectic routine. Next, you need to follow the following steps:
Grab a cotton pad, soft cotton wipe, or cotton ball and pour 3 to 4 drops of baby oil in it. If you have baby oil with a pump, then one pump is enough. 


It would help if you started cleansing from your eye makeup. Gently rub the wipe, cotton ball, or cotton pad with baby oil over your eyelids and under your eyes. Move the cotton pad in circular motions to thoroughly remove the eye makeup.

NOTE:

Sometimes, waterproof mascaras and eyeliners are a bit too hard to remove. In that case, take 1 to 2 drops of baby oil on your fingers, and rub the oil on your eyelashes using your fingers. Rub it gently until your mascara softens. After that, clean the mascara with the cotton pad soaked in 1 to 2 drops of baby oil. 

To cleanse makeup from your face, grab another cotton pad and put some oil on it. Softly rub the cotton pad on your cheeks, forehead, chin, and neck in circular motions. 

3. If you are wearing multiple layers of makeup, take a few baby oil drops on your hands and apply them directly to your face. Gently massage the oil with your fingers on your face. Massaging will melt the makeup and will make it easy to remove. Next, grab a cotton pad soaked in baby oil and rub it gently over the face. Once you are finished doing it, clean the excess oil from your face with a clean cotton pad.

4. Lastly, you need to remove your lipstick. Again, take another cotton pad, put 2-3 drops of baby oil on it and rub it on your lips until all the lipstick is 
    removed. 

Once you have removed all the makeup, wash your face with a cleanser. 
a) If you already have oily skin, make sure to use an oil-free cleanser. 
b) If you have sensitive skin, use any cleanser that suits your skin. 


c) If you have dry skin, you must first massage your face with your fingers so that the moisture gets absorbed into your skin. After this, wash your face with your desired facial wash.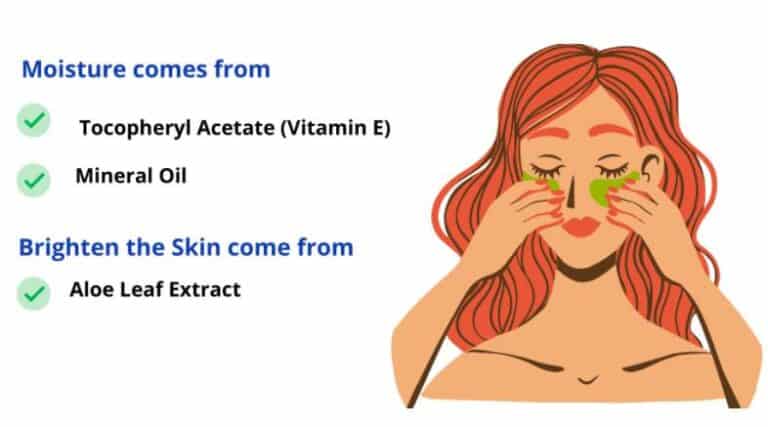 Alternatives for Baby Oil
Not everyone has baby oil in their homes. If you do not have baby oil and still need to get rid of your stubborn waterproof mascara without shedding your lashes, you instantly need to look for other available options. 

Natural oils are also as useful to the skin as baby oil is. You can choose to have coconut oil to remove your makeup. Coconut oils also prevent the skin from breakouts, so it is a win-win. 

The next option you can have is sweet almond oil. Like almond oil promises to nourish your hair, it also nourishes your skin. Because of its light and thin consistency, almond oil glides on your skin and effortlessly removes all your makeup. 

Olive oil is also an excellent alternative to baby oil. We already use olive oil in a variety of ways. It is a powerful oxidant and is packed with anti-aging and anti-bacterial properties. Olive oil is also rich in vitamins. It mainly contains vitamin A, E, D, and K, which smoothens the skin and makes your skin breathe to its fullest. 
Baby oil is a good option because the ingredients within the oil are nourishing and not damaging. This is especially important if we are wearing makeup for most of the day. The steps are easy, it's inexpensive and readily available. You can find it at almost any store.