How to Mix Matte and Dewy Foundation
Finding the perfect foundation can be challenging. It is not as easy as picking one from a shelf and going home. Sometimes you want a matte or dewy finish; other times, you want a finish that's in-between the two. This can make it difficult because it is impossible to find one foundation to achieve all three looks. You might find that your foundation is either too dewy or too matte. However, that should never freak you out because you can still find the perfect finish by mixing the two foundations.

To mix matte and dewy foundation, you need to ensure you follow a couple of essential rules. The first is to make sure both types are either water-based or oil-based. Since oil and water don't mix, make sure the coverage is the same, the skin tone and undertone are also the same. Finally, when applying to your face, make sure you dab and not rub, getting an even finish across.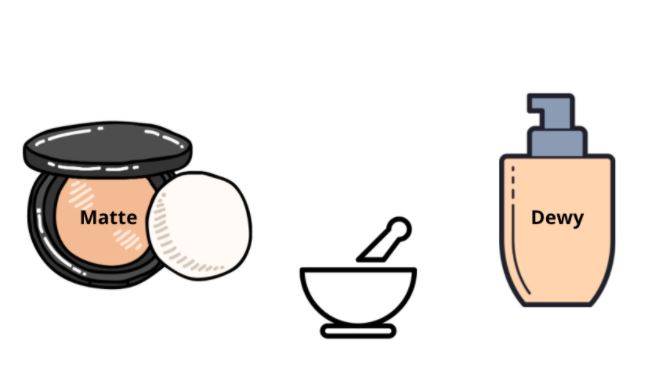 Foundation is not a one fit all product, and finding the right shade for you can prove impossible. Mixing two foundations can help you find the perfect shade for your skin tone. Mixing foundation calls for trial and error until you find the ideal formula. Below is how you can combine two foundations for that perfect finish you want so bad.
Mixing Two Liquid Foundations
When mixing liquid foundations, make sure that they both are either water-based or oil-based. You cannot combine a water-based foundation with an oil-based one. Just like water and oil, they won't mix well and won't give the desired results. Below is how you can combine two liquid foundations.

First off, prep your skin. Preparing your skin is the most crucial step and shouldn't be skipped. Your skin should be clean and moisturized well. Applying foundation on dry, flaky, or too oily skin will not help you achieve a good finish. If you have dry skin, ensure that you use a moisturizer that hydrates your skin well. For oily skin, use a moisturizer that doesn't make your face greasy.
Prime your skin. A primer helps cover enlarged pores and evens out your skin tone. It creates an even surface for the foundation to sit on, ensuring that it looks great. 

Apply small amounts of both foundations to your face, one at a time. 

Note: If you are working on a client, you can mix two at the back of your hand before applying them on their face. Mixing on your hand first will also come in handy where you're mixing the foundation to get the right shade. There are no restrictions here, and you are free to do what you're comfortable with. 

The amount you choose to apply is entirely up to you but make sure you don't use too much.

After applying your foundation, blend it using a brush or sponge. Blend your foundation outwardly, ensuring that you blend it into the skin; rather than rubbing your foundation, dab. Rubbing will move it around your face leaving you with an unnatural foundation look. Lastly, set your foundation with your preferred setting spray or powder, and you are good to go.
Brand Recommendations

Two liquid foundations that will mix well are Lancome Teint Idole and Revlon Colorstay. Revlon Colorstay gives you a matte finish when applied on its own; however, when combined with Lancome Teint Idole, you tone it down and get an in-between finish that's not too matte or too dewy. If you have oily or normal skin, this is a great combination. The combination will ensure that you don't get an annoying shine throughout the day.
Mixing Powder and Cream or Liquid Foundations
Unlike mixing two liquid foundations, you can only use cream or liquid and powder foundations separately. 

What you do is:
1) Apply your cream or liquid foundation to skin that is clean, moisturized, and primed. Blend your foundation into your skin nicely, ensuring you don't move it around. 
2) You can now go in with your powder. With a fluffy makeup brush, dab loose powder on your face, especially parts you tend to get oily. 
Ensure that you don't apply too much powder by tapping off any excess so that you don't end up with a white clown look. Most cream foundations are oil-based and tend to leave you with a shine, and powder foundation will help minimize that and leave your face looking subtle. 
This method is excellent if you have sensitive skin because you only use a little foundation on your skin. Meaning you don't put too many ingredients on your skin, and you get an easy time eliminating your makeup toward the day's end. You get your perfect finish while still taking care of your skin and protecting it from irritants.
Brand Recommendations

bareMinerals Original Foundation is a great powder foundation that's you can use. It has SPF 15, which is an excellent thing because you protect your skin while still rocking your look. bareMinerals is also a favorite because of its minimalistic ingredient list. 
For the liquid foundation, you can use Maybelline Fit Me, which gives a dewy finish. It also feels great on the skin, and you can comfortably wear it all day without feeling worn out. 
Combining it with bareMinerals powder will ensure that your skin is not too shiny. Using powder to set also makes your foundation underneath to stay on your face longer. 
What to consider when mixing foundation?
Now that you know how to mix foundations to achieve that perfect finish, it is vital to know when choosing your foundations. As stated earlier, you don't pick the shelf foundation without the assurance that it is the best for your skin. Below are some things you should put into consideration before mixing your foundations.
When shopping for foundation, your skin type should act as a guide on which foundation you choose. Establish whether your skin is oily, sensitive, dry, or normal, and choose a suitable foundation. Oil-based foundations are great for dry skin, while water-based foundations are ideal for oily skin. Sensitive skin is delicate; thus, you should go for formulas with the least ingredients.
When mixing two different foundations, make sure the shades match to make it easier to blend. Two different shades will give you a different shade that doesn't match your skin tone. The only exemption is if you cannot find your shade, and you have to mix two shades to get the correct shade for your skin tone.

You also need to ensure that the foundations you intend to mix have the same undertone. Your foundation will not look good if they have different undertones. There will be a clash, and blending them will turn into a nightmare. 
When mixing two foundations, it is crucial to consider the consistency of both. You want to have foundations that have almost the same texture that will make it easier to blend. Different textured foundations will give you trouble when combining. It is also important to note here that oil-based foundations and water-based foundations don't mix well; therefore, be on the lookout. Also, liquid and cream foundations are more comfortable to mix, unlike stick and powder foundations. Therefore, get liquid foundations if you have an intention of combining them.
You want to make sure that the coverage of the foundations you are mixing is the same. For instance, if you are going for full coverage, make sure that both the foundations are full coverage. For medium coverage, let both foundations be medium coverage foundations. Doing this will make it simpler for you to blend. And will also give you a uniform look.
To sum up, mixing foundation can help you create a dream makeup look. It would help if you found the right foundations to combine to achieve this. Following the above guidelines will ensure that you get the perfect foundations to mix. It is vital to get the right shade, consistency, and coverage for more effortless blending and uniformity. Therefore, do some research before purchasing a foundation to avoid buying a foundation that won't suit your face. If you have to, try on the foundations before purchasing and have someone help you get the right one. It is also crucial to understand that mixing foundation requires practice. It is okay if you don't get it right on your first trial, training until you perfect it. Recollect that there are no set guidelines regarding makeup; it is all about figuring out what works for you. So don't be reluctant to attempt to come up short because that is the only sure way of finding your match.