How to Apply Eyelashes Without Glue
There is nothing like a pair of false eyelashes to elevate a makeup look for a special occasion, usually applied with an eye-safe glue specially made for eyelashes. If you are in a pinch, though, and don't have any eyelash glue on hand, there are alternatives!

You can make your sticky substance out of household materials or buy either magnetic or self-adhesive lashes. There are also eyeliners explicitly made for acting as an eyelash glue while also holding your perfect cat-eye.
Why Consider Alternatives to Eyelash Glue?
There are lots of harmful ingredients out there in the beauty world, and it is challenging to know them all well enough to figure out what will harm you. Many people are allergic to ingredients they can't even name, and advertisements are often misleading, saying they are "non-toxic" and instead substituting one harmful chemical for another one.

Some of the big no-nos often included in lash glue include formaldehyde, fragrances, parabens, and sometimes even lead. Latex is a common allergen contained in many eyelash tubes of glue.

Traditional eyelash glues can result in irritation, allergic reactions, infections, and swelling, ruining your night out! Some people have milder reactions, some none at all, and sometimes they can happen even if you have used the same eyelash glue before without a problem. It is usually the result of some of the glue getting into your eyes.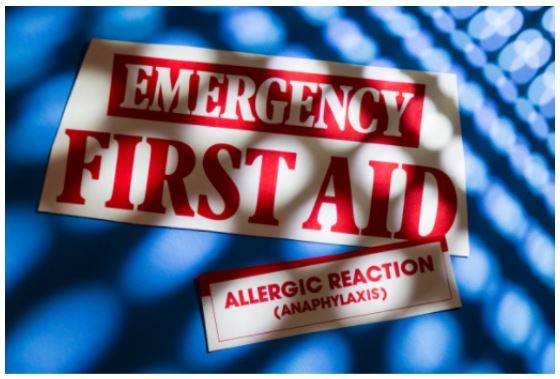 Some signs of allergic reactions include watery eyes that sting, swollen and red eyelids, and pain around the eyes. If an allergic reaction occurs, refrain from using the product as the eye area is super sensitive and can get damaged with continuous use.

If you have a reaction that lasts more than a few hours, speak to a doctor! Stop using it right away after a reaction, and wash your eye area thoroughly with a gentle cleanser.

To avoid the mess and the reactions, below are four of the most convenient ways you can apply false eyelashes without glue!
A popular homemade eyelash glue that many beauty bloggers stand behind is a sugar-honey-water mixture. To make, combine a drop of honey with a half teaspoon of sugar and two tablespoons of water. Some people also add a drop of a mild, non-toxic white glue, but you will have success even without it, and the glue might not irritate your eyes further.  

This mixture will create a sticky substance that will dry clear and will work effectively to keep your lashes on. Put a thin layer of the mixture on your false eyelashes with a Q-tip, then put on your lash line as you normally would, holding it in place until it is dry. You'll have a look you want, without the cost of eyelash glue!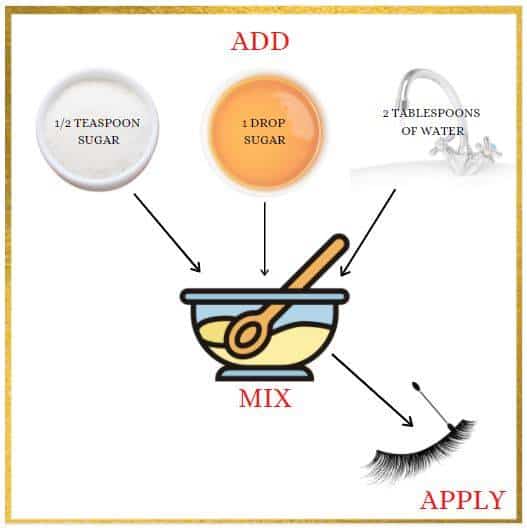 Please dispose of the mixture after use, as it will not work well when it is not fresh.
Keeping in mind with homemade eyelash glue is not researched or specially formulated near the eyes like most actual eyelash glues are. Eyes are susceptible, and there is a possibility of a reaction to an ingredient. Homemade eyelash adhesive is not an option you should often use, as it can cause irritations and reactions, so use it sparingly when you are in a pinch or have run out of what you usually use.

The excellent part of homemade eyelash glues is that you control what goes into it, so there are sure not to be any allergens, and it is much cheaper than buying lash glue!

Most beauty retailers, as well as drugstores, carry self-adhesive false eyelashes! These have a small plastic strip on the back that, when removed, reveals a tape-like adhesive that will make the lashes stick to your eyes all day. These are very easy and fast to use and don't require any additional products. 

Ardell makes a Self-Adhesive Lash Set that requires no glue at all! These have a thin line of adhesive separate from lashes, which you apply like a piece of tape on the back of the eyelashes before adhering it to your eye. They are natural-looking and, at a low price point, a great alternative to using regular glue.

Another option is Eylure's Pre-Glued Lashes, which come in lots of different styles and only take seconds to apply! The pre-glued band of the false eyelashes is incredibly convenient for putting on lashes in a pinch without the mess of glue. A singular pair stays on for over 12 hours of wear.

Blinking Beauté's Self Adhesive Lashes Celebutante, which can even be reused! The sticky band adheres to the eyelid without any drying time while creating extra volume for a dramatic look. Additionally, to prevent the dreaded feeling of having heavy falsies on, Blinking Beauté's lashes are incredibly lightweight. 
Another excellent option for you to consider is adhesive eyeliners, where the eyeliner goes on like glue but dries into a traditional eyeliner! You can get the eye look you want, and the eyeliner will also function to hold onto your false eyelashes. They work both on their own as just a liner and as a means of attaching your lashes.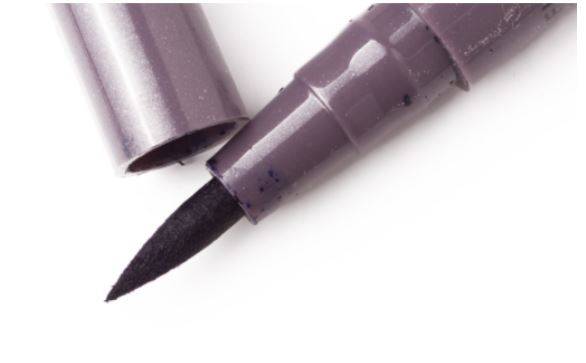 A popular option for this is KISS Felt Tip Glue Liner Lash Adhesive, which boasts that it's the first of its kind and multi-tasks effectively. It makes it much easier to apply both lashes and liner, as it has a felt tip that glides across your eye and helps you achieve whatever look you want to go for, all while keeping your lashes attached! 

Velour also makes a Liner/Lash hybrid, the Lash & Go-Eyeliner, and Lash Adhesive Hybrid, for a slightly higher price, but dries to a satin finish and is free of formaldehyde. It is smudge-proof and will make your eyes pop with intense black color. 

On the pricier side, Silly George offers LinerBond Lash Adhesive Eyeliner, although it is also provided as part of bundles that include lashes. The LinerBond is easy to apply, precise, and lasts all day. It contains no parabens and is both vegan and cruelty-free! Apply the eyeliner and apply the lashes to have a look that lasts all night, without any mess. 

Lastly is the Eylure Line & Lash Adhesive Eyeliner, a felt tip vegan liner used with false eyelashes. The liner lasts all day securely and is smooth and easy to apply. It is mess-free and convenient for both at home and on-the-go use! It is highly pigmented, and reviewers say that it is straightforward to use, even for beginners, and can be used with heavy, dramatic lashes and lighter, natural ones. 
On a similar line as adhesive eyeliners, there are also mascaras available that will keep your false eyelashes on all day. Most of these come with eyelashes that are cut up into smaller sections to ensure that every area is equally coated in the adhesive mascara.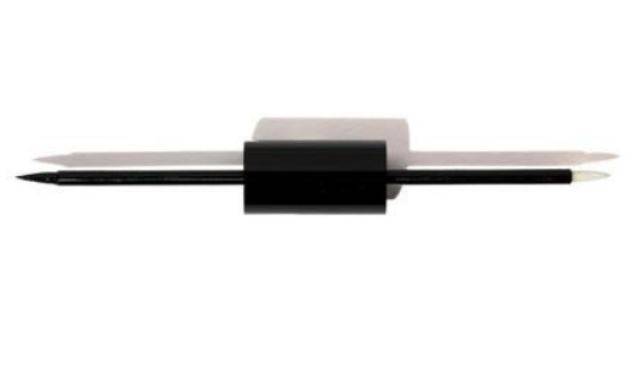 KISS's Falscara works to attach eyelashes naturally and easily. What is different about this process is that each section of falsies goes on under your natural lashes rather than above them, creating a more natural look than traditional false eyelashes! The starter kit, including one pair of lashes and a tool for applying and the Falscara.

The Falscara itself is a double-ended mascara, with one side that bonds the falsies to your natural eyelashes and the other that seals them together and makes sure that your look lasts all day. 

At a higher price point is Lashify's Whisper Light Dual-Sided Bond, which gives a more luxurious experience to the process. Just like the Falscara, Lashify's Bond works to stick on the sections of falsies underneath your natural lash line, while the other side seals the glue and makes sure the eyelashes stay on all day.
Lashify recommends using their brand-specific eyelashes for application, but their products have no formaldehyde or fumes and are very gentle on the eyes. Additionally, the adhesive mascara comes in both clear and black and is made to protect your natural eyelashes from the weight of falsies. 
With all these options for ways to achieve a false lash look without using noxious and messy glues, there is sure to be something that does the trick. Hopefully, with choices ranging from self-adhesive lashes to adhesive eyeliners, you will find something that suits both your style and your eyes!