A Guide To Choosing Foundation For Combination Skin
If you're someone with combination skin, you perhaps know the struggle of finding the perfect foundation for your skin. Every day there's a new foundation launching, and amid these infinite foundation launches picking the right foundation for your combination skin type can be a little daunting. Foundations are of three main skin types: dry, standard, and oily, and combination skin type falls right in the middle!
The best type of foundation for combination skin is a liquid foundation with medium to buildable full coverage with a natural matte finish. Apart from the foundation, you can customize everything as per your preference, the finish, and the coverage level. Still, the formula best suited to combination skin types will be liquid and liquid only.
Why do I need a foundation for combination skin?
Just like any other skin type, combination skin comes with its fair share of problems, including uneven skin tone, discoloration, texture, scars, and blemishes, which need covering up to create a flawless base. As the name suggests, the foundation acts as a base for the rest of your makeup to sit on. 

You can use foundation to even out any discoloration on the face, match your face's tone with the rest of your body, cover up any imperfections, and make a generally smooth and even canvas. 

You can also choose the coverage that you want out of a foundation. The three primary levels of coverage range from sheer, medium to full coverage. It's always wise to assess your skin and what you need to cover up before choosing that perfect foundation. 

Of the three primary levels for combination skin, we recommend going with a medium to buildable full coverage foundation covering almost all skin imperfections.

When it comes to choosing a foundation, it's not a one-fits-all deal. It would be best to keep in mind your skin type and what you're looking for in a foundation. All foundations vary in formula, coverage, and finish, so finding the right foundation can seem a little tricky.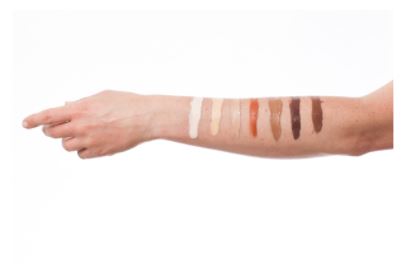 How do I know if I have combination skin?
Many people might mistake themselves for being typical skin type when, in reality, they're a combination skin type. To see whether you have combination skin, follow the four steps below:
Pay attention to how your skin feels.
It's essential to see how your skin feels on some random day of the week. The texture of your skin can tell you a lot about its type. If your skin feels oily at the T-zone and comparatively drier on the other parts of your face, you have combination skin. It can likewise be a blend of oily and dry at different areas of the face; regardless, if you notice at least two distinct textures on your face (dry and oily simultaneously), it is an indication that you have combination skin.
In a well-lit room, take a mirror and inspect the nature of the pores on your face. If you find that your pores are enormous and frequently clogged around the nose yet are little and unnoticeable on the cheeks and different face territories, these hints of combination skin.
Notice how your skin feels after you cleanse it
The way your skin feels after being cleansed also plays a significant role in identifying your skin type. If you find that your skin feels clean and oil-free around the nose but dry and tight around the cheeks after cleansing, you could have a combination skin type.
Think about your moisturizing routine
Every skin type needs a moisturizer, be it oiliest of the oily skin type or the dry skin's direst. What differs is the type of moisturizer you use and the frequency of applying it. If you find that you need the most amount of moisturizer on your cheeks and the outer perimeter of your face while the T-zone doesn't need as much of it, you've got combination skin.
How do I know that my current foundation isn't working for me?
Now that you've identified your skin type, it is time to see if your current foundation is working well for your skin type. After you've applied your foundation, check closely to see if the foundation is clinging to any dry patches; if you see it clinging to dry patches and the uneven texture on the skin, it's probably too matte. If you find your foundation sliding off of your nose and notice a ton of oil at the T-zone, your foundation's probably too dewy.
Will all foundations work for combination skin?
No, not every foundation can work for combination skin. There are four general foundation formulations: cream, liquid, powder, and serum-based foundations. 

Cream-based foundation sticks are ideal for dry skin because they're super hydrating.
Liquid foundations, depending on their finish, suit most skin types, from dry to normal to combination to oily.
Powder foundations are ideal for oily and sensitive skin; they provide a natural satin finish that doesn't look heavy on the skin.
Serum-based foundations are usually sheer in coverage. They tend to be infused with serum and provide skincare benefits while covering up any imperfections. 
The formula best suited to combination skin types is liquid. 
How do I know what foundation to choose for my combination skin?
The first thing you'll need to know when trying to find the right foundation is choosing the proper coverage. 

Once you've decided on the amount of coverage you want, think about the finish you want. When working with combination skin, you should ideally go for demi-matte or a soft matte finish foundation to keep the oils at bay. If you love the dewy looks and want to carry one, you can always add a highlighter to your face's high points where the light would hit naturally and bounce off the highlighter. 

The best formula suited to combination skin is liquid/gel consistency. When looking for a foundation, make sure to keep in mind the keywords soft matte, natural matte, satin finish, oil-free, water-based, radiant, and long-lasting to get the best match for your skin.
What does foundation coverage mean for combination skin?
Not all combination skin types are created equal; some need little to no coverage, some need a little help covering any scars, and some might need a full-coverage foundation to cover multiple problem areas. 

Choosing the right amount of coverage is a crucial step to finding that perfect foundation fit for your combination skin. Not everyone enjoys the same coverage; some people like sheering out their full coverage foundation to bring it down to a medium finish. Some like building their foundation to the desired coverage in thin layers; it's different for everyone and personal preference; here's a little guide to identifying the additional coverages:

Sheer: These foundations have the least amount of pigment in them and are ideal for people who have near-perfect skin and not much to cover. Sheer coverage foundations feel light and undetectable on the skin and help even out the complexion. They won't cover any scars, redness, dark circles, and heavy discoloration on the face; you'll need to correct and conceal them with foundations like these.

Medium: These foundations have slightly more pigment than the sheer coverage ones—ideal for people who have a little bit to cover here and there. One layer alone will cover up most of your redness, scars, and discoloration. They can also be built up in thin layers to reach medium to full coverage without looking cakey on the skin.

Full: These foundations have the most amount of pigment in them, making them capable of covering up almost every imperfection. From redness to dark circles to severe scars and even freckles. When built-in thin layers, full coverage foundations can even cover birthmarks and tattoos.

Carrying the most pigment makes full coverage foundations thicker inconsistency, and that's why people find full coverage foundations a little tough to handle. The best way to work a full coverage foundation into your skin is by using a damp beauty sponge and applying in light layers until you're happy with the coverage. 
What finish should I opt for when choosing a foundation for combination skin type?
There are various finishes you can choose from when buying a foundation; by the day's end, everything comes down to personal preference. You can carry both luminous and matte foundations with slight alterations to the prep and set methods, but ideally, a demi-matte finish would hit that sweet spot for your combination skin. Here are what different finishes would seem like on your skin:

Demi matte/satin finish: Neither too dewy nor too matte, it's right in the middle of both and gives you a skin-like finish that doesn't look as flat as your typical matte foundations. This is the most commonly preferred formula as it suits a variety of skin types and merely looks like your own skin, however better!

Soft matte: Matte formulas can be a tad bit drying for the texture on your skin; a smooth matte finish ensures that the foundation isn't too drying to cling to any surface or dry patches the skin. Many people tend to prefer a soft matte finish because it gives a matte foundation's overall appearance without enhancing texture or being too dry and flat. 

Radiant: People often confuse radiant with dewy foundations. Brilliant finish is a perfect medium for the ladies who don't want to appear overly luminous or overly matt looking. Many people favor this sort of skin because it doesn't highlight any skin concerns. Radiant skin is a happy medium between dewy and a matte complexion.
Can BB, CC creams, and tinted moisturizers work for combination skin?
They sure can as long as you choose the right formula for yourself. For combination skin, it makes sense to choose a formula that leans more towards the spectrum's matte end. These base products have moisturizers that hydrate and protect your skin. 

Tinted moisturizers mostly offer sheer coverage, while BB and CC creams offer buildable medium coverage. Some BB and CC creams also claim to provide full coverage while replenishing the skin; if foundations aren't your jam, these BB/CC creams and tinted moisturizers will be your best friends!
Do I need a primer for my combination skin?
Yes! It would help if you always had a primer to smooth out your skin before applying the foundation. And while there are various primers in the market, combination skin calls for a combination of primers to spot-prime different areas of the face. Opt for a hydrating primer for the dry and textured areas of the face, then apply a pore-filling and mattifying primer to the oily areas of your face.
Can I mix different foundations to suit my combination skin?
You can mix different foundations to create your custom foundation. People often mix foundations to help them match their shade but mixing in foundations that offer additional coverages and finishes is an absolute game changer!

If you own two foundations, one matte and one dewy, you can mix the two to create a custom finish that falls right in between to suit your skin type.

You can also mix in a sheer coverage foundation with a full coverage foundation to customize the amount of coverage you're getting from your foundation.

You can additionally add a little bit of your full coverage foundation to your tinted moisturizer or a BB/CC cream to improve their longevity. 

The options are endless when it comes to customizing your foundation. However, it is essential to remember that mixing in two foundations that perform the same won't work; you must thoroughly weigh the pros and cons before mixing in the foundations.
Will I need to set my foundation with powder for combination skin?
Yes, the powder will make sure that your foundations stay in place all day long and will also keep your natural oils at bay. It's also a good idea to pass on a few blotting sheets and compact powder for touch-ups throughout the day because your natural oils can often separate the foundation on your skin.
Will I need to invest in a specific powder for my combination skin?
If you've chosen the correct foundation, you won't need to buy another powder to make the foundation work. Just a light dusting on the textured areas and baking in the oily areas will make sure your foundation lasts all day long. While most compact powders can be slightly dry on the skin, it's better to invest in a loose powder as they tend to work all year round.
I own a matte foundation; can I make it work for my combination skin?
You can, with a touch of experimentation! Depending on how matte your foundation is, the texture that it clings on to, you can always start with a little extra moisturizer on the drier areas of your face to keep the foundation from clinging onto them. If the foundation you own is super matte, you can add a drop of your favorite serum or elixir to change the foundation's consistency and help it glide over smoothly onto the skin. 

You can also switch your foundation brush to a beauty sponge; a damp sponge can do wonders for how your foundation goes over the texture. The extra moisture in the sponge helps soften up the foundation on the textured areas.
You can also finish with a hydrating/dewy setting spray to take away from the foundation's flat matte finish.
Can I make my dewy foundation work for combination skin?
You very well can, with a few alterations! If you own a dewy foundation, you can still control the oils by baking the oily areas with a translucent powder, i.e., use a generous amount of powder onto the oily zones and let it sit on the skin for a couple of moments before brushing it off.

 If you still find your t-zone getting oily throughout the day, you can blot and re-touch with a powder to mattify the oily areas on the face. Using a super matte primer on the oily areas will also help in controlling the oils. 

Adding a mattifying setting spray can also increase the longevity of your dewy foundation.
Can I use the foundation as a concealer for combination skin?
You can, as long as you're using a liquid-based foundation that offers medium to full coverage and is an exact match to your skin tone, you can get away by using the foundation as a concealer for combination skin. Don't forget to set it with powder!
People with combination skin can make various foundations work for their skin type as long as the basic formula is liquid-based and oil-free. With this guide, you'll ace choosing your next foundation in terms of finish, coverage, and formula for combination skin!