What Color Lipstick Would Go With A White Dress?
A white dress is a timeless classic, just like a little black dress. It is a wardrobe staple! Choosing a color lipstick that goes well with a white dress could be confusing, but it doesn't have to be. Coordinating your lipstick shades to match your outfit relies on your complexion and its undertones. Think of the event or the occasion you are going to and what time of the day it will be. 
There are a plethora of lipstick colors that go with a white dress. Rose pink lipstick adds a tender yet tantalizing touch to a white dress; fuchsia lipstick is seductive and vibrant. Peach lipstick is refreshing, adding a splash of color. Orange lipstick is a soothing color that brings warmth to a white dress. Nude is universally flattering on all complexions. Red lipstick is the epitome of sexy because its volume and brightness feel intimate, plum is bold, while brown lipstick is an iconic natural color symbolic of the '90s trend, and bronze lipstick says glitz and glam as you enter any room.

Read on to find out more about these fantastic colors. 
Rose Pink Lipstick with a White Dress
For a ladylike look, opt for a fresh and floral color that is rose-pink paired with a white dress. This is a soft, sheer, and dainty addition that makes you look effortlessly polished. It is understated, subtle, and sophisticated. The right shade of girly-girl powder pink lipstick looks more grown-up. 
For more drama, add a lip liner and gloss to your lipstick. This lipstick deserves a spot in your makeup bag simply because it's such a cheerful, vibrant one. It's reminiscent of summer, which is always something to look forward to. 
Fuchsia Lipstick with a White Dress
Turn heads in an electric, ultra-feminine fuchsia lipstick paired with a white dress. This is one of the most eye-catching colors of all time. What better way to look effortlessly sexy in spring than wearing a flattering fuchsia lipstick? This brightens up every color skin tone. 
This color first came to the scene in the 1980s with dance party culture where women wore bold prints and bright colors. This is an excellent color for women who have cool undertones. 
Fair skinned should opt for a sheer option or matte texture finish, not to mention a fuchsia lipstick with blue undertones. Olive skin should opt for matte texture, sheer options, and a creamy texture finish. Deep skin should opt for creamy, sheer options; It's sweet, sultry, and sparkly hue, making you stand out in a crowd thanks to this pigment-packed shade. Think Legally Blonde in this Barbie pink. It just spices up your day. 
You do need this color in your life. Choose a good lip liner to line around or over your lips.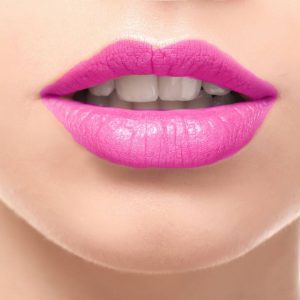 Peach Lipstick with a White Dress
This hue in its bright and dark variations works on almost all complexions. This lipstick can work from the office to lunch out with friends. This velvety, rich, and vibrant hue adds drama to any white dress. 
It's just extra! There's no better way to describe it. Look gorgeous in a lip-hydrating balm lipstick that plumps your lips. Word of advice, wear this shade with lip gloss over it, or better yet, buy it as a lipgloss to add more color, texture, and volume to it. This color looks fantastic in an opaque, semi-matte, or long-lasting formula. 
This color brings life to a simple white dress—side note: If you have dry, chapped lips. Influencer Negin Mirsalehi recommends as you brush your teeth with a toothbrush, brush your lips too. 
Orange Lipstick with a White Dress
Any orange lipstick works with any white dress. Whether it is neon coral or sheer apricot, this adds a nice pop of color, especially if it's a nectarine shade. This shade looks luxuriant whether it is in a matte-finish or a long-lasting one. 
It is preferable to pick a grapefruit shade which is an orange lipstick with a pink undertone. Look edgy in a daring burnt orange that has a red-orange undertone. This delivers a high-impact color-blocking combination. To avoid a full orange color that looks like a neon highlighter. 
If you pick a matte neon crayon orange, you can still mix it with lip balm to tone it down. You could pull it off. Pick a more muted orange tone. A true bright orange that's much more subdued is the best option. That smooth feeling is much more comfortable. This warm color works well for fair complexions. However, it best suits you if you are more tanned.
Nude Lipstick with a White Dress
Look regal in refined nude lipstick. This balmy beige shade elevates a white dress in so many ways. It accentuates your natural lip color by making you look put together without doing anything, meaning no-makeup or makeup. 
It's like a concealer or highlighter for lips. There is a wide variety to choose from when it comes to neutral shades, which makes this color complements all skin complexions. This color is just perfection! 
For an Ombre effect, try a darker lip liner and lighter lip color in the center. Choose a super smooth, mauve-based, creamy, and comfortable formula. Whether you choose this nude lipstick from a drugstore brand or a high-end one, this color remains the epitome of class. 
The science and art behind this color is mind-blowing. Think about it for a minute; this is a combination of pink and yellow that is altered into different degrees. This is an essential lipstick, and you must have it for days where you want to look like you're not trying. Then there are days where you have your friend's birthday party and want to make some extra effort. Therefore, a metallic smoky-eye would be all that you need.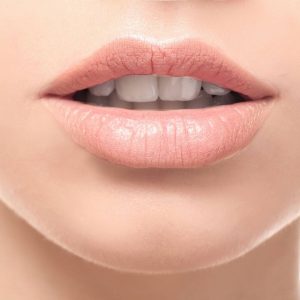 Red Lipstick with a White Dress
This attractive ruby red color will make a statement with any outfit. In the 1950s, Marlyn Monroe and Elizabeth Taylor wore those shades. Bonus points if you match this look with red nails. You have to take your skin tone into account when you pick red lipstick. Red lipstick is a universal color that is the symbol of elegance simply because it flatters every complexion. 
If you choose a long-lasting formula that dries out your lips, it is essential to put a hydrating lip balm beforehand. 
Fair-skinned should choose cool-toned red lipstick.  For instance, a blue-undertones one. The medium should choose a neutral-toned one, perhaps a cherry red. Think quirky orangey-reds, pink-reds, and berry reds. Deep-skinned should pick a warm-toned red lipstick that has a brown finish. 
Plum Lipstick with a White Dress
Steal the spotlight in a juicy plum lipstick freshly plucked from its tree. Dare to wear this deep, dark mauve that's heavily saturated and highly pigmented. This is the perfect color because it works for any occasion and any time of day. 
Violet is suitable for a casual night out at a club and a formal occasion, or a fancy dinner party. This exciting color is very archaic yet futuristic at the same time. It's retro, but it's not. This glamorous color takes us back in time to the roaring 20s. The golden age of silent movies and Broadway. This is perfect for a modern-day after-party.   
Bronze Lipstick with a White Dress
This high glam color works best for deep skin. This color looks bomb on olive skin tone. Do avoid if you are fair-skinned, though, because it's way too dark for you. Consider this a noticeable nude. This is a shockingly wearable metallic color. Bonus points if you choose a cruelty-free, vegan formula.
Brown Lipstick with a Whie Dress
This controversial '90s lipstick trend has made its comeback. Remember those times from Drew Barrymore to Jennifer Lopez. Love it or hate it, this cult classic is a trendy color that has circled back into style. 
If you have deep skin, try a brown lipstick with a satin-finish overland with a defined lip liner paired with a subtle winged cat-eye that looks gorgeous. If you're fair-skin, it will look vampy on you. So you better choose a brown lipstick with a lighter undertone such as rosewood or raisin brown and over-line it with a cinnamon-brown lip pencil. Do avoid brown lipstick with a gray undertone. This tends to look jarring and just plain harsh. 
In a nutshell, there are a plethora of lipstick colors that go with a white dress. What really matters is what look you're going for and what personality you want to convey which is what this article is all about!